What's The Payback……In Relationship Terms……Maybe 1,000+%…..!
For more
By Sid Chadwick, Chadwick Consulting, Inc.
"Those who bring sunshine to the lives of others…..can not keep it from themselves"………….Sir James Mathew Barrie
INTRODUCTION:
My experience of the value of an email or hand-written note --- of acknowledgement….of appreciation --- can be worth a fortune…..from several perspectives…..
 Examples include….but are not limited to:
A Buyer who's just sent you an order.
A Buyer…..who's just increased their order to you.
A Buyer….who's just ordered a "new item"… from you.
A Buyer…..who's just given you extra time for their delivery --- in the midst of your overscheduled plant.
A Buyer…… who's just asked for a Quote.
A Buyer….who requested a Quote…that you didn't win (but who did provide you the opportunity).
A Buyer…..who's asked for a Supplier Referral.
A Buyer…..who just offered you a New Customer Referral.
A Supplier Rep….who just offered you a New Customer Referral.
A Supplier Rep…who made something happen you needed, but whose company was not prepared to make that request….happen.

I believe you get the idea…..so I ask, "What would one note a week of that nature possibly accomplish…… for you…. ….your organization….(and…. your recipients….)….?"
Now, lets turn to your "Inside Treasure" --- your own organization…. whom you count on every day….every hour…. to deliver what's needed --- and even more…..
In your organization…. Today…. there are individuals who are struggling….who could use a note of acknowledgement….a note of appreciation…..
How many "thank you notes to key personnel"…have you written this month?........This week?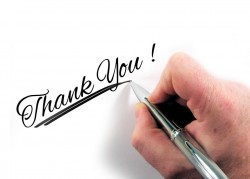 I will never forget the client, who was panicking when they called me…..whose CSR Team --- increased their revenues 16%....... over the previous summer's revenues --- by my asking….my instructing…. their 13 CSR's…. on how to be proactive with Customers…."but not sell them"….each CSR was requested --- to write….. at least two --- "Thank You Notes" --- every week…!
Not only were orders increased…..but new items were ordered…..every week.
SUMMARY:
Generally…. there are many deserving folk – in the proximity of your working space….every day.
Gratitude is not free….nor is it frequently, genuinely --- communicated.
My experience is that when deserving folks receive a hand-written… "Thank You Note" --- they find a way to keep it…..so on those days when nothing seems to be going as expected….they can privately pull that folder out, and read those too few rare notes….reminding them….they're a decent human being.
What's it worth to elevate someone's day…by taking the time to say "thank you for….."? (Well……. it's worth a fortune….though I do not know when, or in what form…. that fortune…will appear.)
Anyone receiving too many "Thank You Notes"…?
"Friendship is like money…..easier made than kept"………Samuel Butler