Alumni in Print – Where Are They Now? - Amber Stroup
Alumni in Print – Where Are They Now?
The Print and Graphics Scholarship Foundation is publishing profiles featuring some of their more than 6000 former scholarship recipients. This series gives you an up close and personal insight into the thoughts and motivations of the former students who are a part of our industry today.  As our current employees reach retirement and leave, replacing them becomes an increasingly important factor for many companies. Here is one story…
A Profile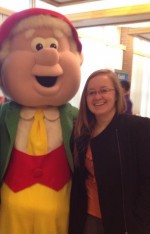 Amber Stroup graduated in 2009 from Western Michigan University with her Bachelor of Science in Printing.
How did you first get interested in the graphic arts, or decide to focus on graphic communications in school?
It was while I was working on the yearbook and newspaper in high school
Did you take any courses in high school that were related to graphic communications, or that prepared you for your planned career?
I was in Journalism (newspaper) and also the school's Yearbook team.
How do you think going through your education process prepared you for the workforce?
The WMU Program was helpful to learn the basics, but internships were most valuable in preparing me to join the workforce.
In the Workforce Today
What company are you working for now and what types of products and services do they provide to their customers?
I am with IMS (Integrated Merchandising Services), and I am an on-site in the Kellogg Headquarters.  IMS provides national distribution services, but my responsibility on-site at Kellogg is to order all commercial print (excluding packaging) for Kellogg North America.
What job did you first have with the company when you started, what position do you have now, and/or what else have you done since joining the company?
I started as a Production Supervisor, and then I was promoted to Senior Production Supervisor.
What do you think employers are looking for in today's workforce and the current industry environment? 
A strong work ethic further driven by the will to always learn, as the printing industry is fast-paced and ever changing.
Is there anything that you have found to be particularly different from what you initially expected, now that you've progressed through your work career for a period of time?
No.  WMU provided many great opportunities for internships, tours of print facilities, and part-time work experiences to prepare their students for industry.
Have you changed your plans or ideas about what area or type of job you might like to have since you first considered the graphic communications field and began studying for a career in it?
No – I love it!
What do you see yourself doing a few years from now?
I would love to get involved in a more educational perspective within the print industry. I am passionate about this line of work, and would love to teach others.
Was being a recipient of a PGSF scholarship important, or did it have an impact on your future or ability to succeed in the industry?
Of course, the PGSF was important to me! 
PGSF works to inform young people about the opportunities that are available in the graphic arts industry and then support them during their educational phase. To learn more about PGSF, or how you can support its work, visit www.pgsf.org or contact John Berthelsen at [email protected].  PGSF is a 501(c)3 non-profit organization and contributions are tax-deductible to the extent allowed by law.