Win – Win – Win… With…. "Organizational Collaboration"…….
For more
By Sid Chadwick
"A ship in harbor is safe, but that is not what ships are built for"..John A. Shedd                                                                                                      
INTRODUCTION:
Our client asked, "What 'Guidelines' I could suggest to assist improving their "Teams Competition", as they had learned that key Production Personnel could improve "Winning More Profitable Work" -- for most of their Reps – if -- invited to participate: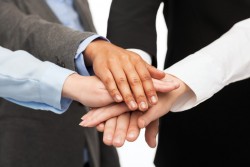 No. 1: Develop a Reward – that allows more than one winner..if more than one winner is desired. For instance, you don't want to say, "Whichever Team brings in  $500,000 or more -- in Value-added new account revenues in 6 months, wins and splits-up the $5,000 Bonus." Too often, if the reward goes to only one Team or person, a "horserace develops".  Once everyone sees one group or person ahead of the others, those in secondary positions lose important motivation. (For me, I want as many Teams as possible collecting the Top Prize!) Better Statement: "Whichever Teams bring-in $500,000 Value-added dollars or more in these six months – receives $5,000 in Reward Prize money -- to split among their Team Members." (Note: A 2nd and 3rd place prize are helpful, if performance requirements are meaningful, and there's no limit to how many Teams can win 1st Place Prize -- if they "achieve the numbers.")
No. 2. Try not to exceed 6 months for your contest. I've always preferred 3 months. One year is too far out to be meaningful. Every 3 months lets me run the Contest – four times in 12 months...!
No. 3.  Post updated results – frequently, to keep everyone's interest. I generally like updates -- every two weeks.
No. 4. Developing "collaboration" between Sales and Production can generate surprising results. I like to choose Estimators, Pressroom Managers and Prepress Managers – teamed-up with Sales/CSR Teammates.
No.5: Set a minimum of Value-Added revenue for a new account -- to count as a new account, and be counted in the contest. Different markets have different amounts that are reasonable. "Value-added dollars" are what help the company.
No. 6: Put the "Rules for Counting" in writing. The Boss is the judge for clarification, and arbitration.
No. 7: If special "Quote Letters" or "Winning Proposals" are developed, they are allowed to be viewed, and their strategy copied – by anyone. We are all here to learn how to "Win More Profitable Work".    
SUMMARY:
This client is marching forward…with conviction…..and innovation.
They recognize that "Contests can be Motivating, Profitable Events"…… …..or…Not…!
There is NOT an unwritten code in our industry – that Quote Letters must be dull, only containing specifications and a price -- and lacking in meaningful information and "Options" -- for my Buyer to make a more-informed decision.
When we document in our Customer Profile what my Buyer: (a) can't get other suppliers to do, (b) can't get other suppliers to follow, (c) never seems to receive more than the minimum of information, and then only when requested, we've uncovered a "mother-load" of opportunity.
Opportunity is on every corner….regardless of market conditions….waiting to be discovered.
"You can observe a lot…just by watching"…….Yogi Berra