Communications….Including Listening……Is Key
By Sid Chadwick
"Researchers discovered that people who knew each other well understood each other no better than people who'd just met!....Even worse, participants frequently overestimated their ability to communicate, and this was more pronounced with people they knew well"……….University of Chicago Booth School of Business
INTRODUCTION:
Hubris….and arrogance…..don't often recognize themselves………(until after the game is lost….)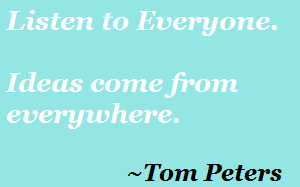 We recently delivered several Customer Survey Reports --- that "rattled" our survey client sponsors --- there were SURPRISES… --- on practically every page….!
Interestingly, these are clients who are "well-grounded" in (a) print technologies, (b) written SOP's, and (c) their (financial ratio-study) performance numbers. Why you could practically "eat off their plant floors"……
What they had no deep or individual customer understanding about --- was what their individual customers…. wanted improved……and how their clients thought of them --- relative….. to their competition,,,!
It happens…..in marriages ("yes"…..now we're getting personal)…..and supplier customer relationships.
One party goes along without dramatic complaints…..until that dreadful day when "I'm being taken for granted"….is recognized…..and felt….!
Another client recently pointed out to me that his company most liked to produce…. what they seemed to produce best……!
However…..then I asked, "Do you know which customers you are most valuable to, and why…?"
SUMMARY:
Many of our industry's gurus are most comfortable --- with our evolving waves of technologies.
We even see, about every 12 -18 months --- a notable bankruptcy --- from a well-known company ---- that was operating its "highly-touted financial business model" --- right to the end.
However, I'm of the bias….that… it's customers who determine (1) what our industry looks like….and (2) which companies prosper --- and are invited to stay in business….as their primary supplier.
Most organizations I know --- privately acknowledge --- they need more customers --- whom they can be important to…….
So when you attend that local association's Print Awards Evening (where many attendees go to find new prospects)(and is anyone discretely selecting which samples are submitted…?)…..or the Continuous Improvement Conference (where Customer feedback was generally --- omitted), ask yourself,
--- "Is this what my customers….. my most important customers……and my most important prospects --- want us to improve….or……
--- "Is there something more important…. they wish we would offer…. or improve….that we don't know about…..….?"
As one of those clients recently wrote me, "Your survey was so impactful, so focused and revealing….. that practically our entire business development plan…. for this entire year --- comes from those pages, those customer evaluations….and their requests…"
"It always seems impossible….until it is done"……..Nelson Mandela