Is It Too Late…..?
For more
By Sid Chadwick, Chadwick Consulting, Inc.
"We don't give huge sums of our money to Non-profits with great Missions….. We give huge sums of our money to Nonprofits --- with Great Leadership."………..Anonymous
INTRODUCTION: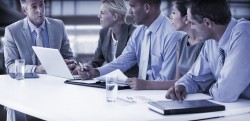 Our Business Development Directors were assembled, and the Chairman of one our great industry's associations asked, words to the effect:
"It appears we have a serious and growing problem at Print19……Not much is changing…..What would you change about the  upcoming Print19 Trade Show?"
I believe "he knew" ……….he'd dropped a grenade…..in the middle of the room.
Summary of an impassioned 45-minute group discussion:
Substantive Content --- has been lacking in too many Education Sessions….
Lack of Content on how to grow your company's performance…..
Lack of Content on how to improve your revenue development processes…
Really good Education Sessions seem to be offered ---for only one session…………The Chicago Trade Show…. seems to mostly be about Digital…….
For Example, there's nothing ever offered re. How to Use…Public Databases…. To uncover target prospects, or solve clients' business development problems.
For Example, Great Resources on Wide-Format, like Debbie Nicholson, have never appeared…….as a speaker. (However, Wide-Format suppliers know who she is, with their Sponsorships.)
For Example, there's a need for great speakers on how to "Revitalize The Performance of a Company's Pressroom"……there are too many Pressrooms wasting fortunes in paper, and running Presses --- at half-speed……with poor to no maintenance……..! (Do you know what to evaluate in a Used Offset Press…? How could you ever offer better intellect, with more depth, than Ray Prince…? Really, you can't.)
For Example, few companies have Identified what should be: (a) Measured, (b) Reported, and (c) Posted……in their Digital, Prepress, Pressroom, Bindery, and Fulfillment Center --- to improve…..radically improve --- their company's Productivity….!
Most owners are tired of having to pay Piracy-laced Hotel bills, in Chicago…. so The Show, lacking substance, can find another stream of money, they didn't earn.
SUMMARY:
My information shows…. Print19….. is scheduled for October 3-5.
My information shows….SGIA Show… in Las Vegas, is scheduled for October 18 – 20.
Guess which Trade Show's attendance….is growing….?
"There is only one boss: the Customer….. And he can fire everybody in the company, from the chairman on down, simply by spending his money somewhere else"….Sam Walton