Opportunities for "Elevated Differentiation"….Keep Piling-Up….!
For more
By Sid Chadwick
"We rate ability in men by what they finish…..…not by what they attempt"…………………Anonymous
INTRODUCTION: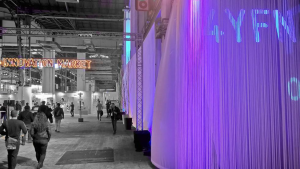 Today I'll make a presentation, on request, to about a dozen Sales Reps….re. "What To Do  --- As A Trade Show Attendee….and… Exhibitor.
Objective: Learn the fundamentals on how to make Trade Show Investments --- Pay-Off --- Big…!
In preparation, I included a review of a recent (from 3 months ago) Customer Survey Summary Report --- for a long term client.
That Customer Survey sponsoring client….. was told in Survey feedback… by….35 Customers … that those 35 Customers attend…cumulatively……well over 500 Trade Shows…as EXHIBITORS….!. 
Sidebar: My consistent experience is that our industry tends to not know….to not pursue learning…..or "connect the dots"….of what their customers do….. for…. "Developing Revenues."
As an observation, our great industry's Print organizations…. Generally…. do not  attend Trade Shows….as either an Attendee….or….as an Exhibitor….nor do we know …..which of our target customers…do attend…!
Opportunities for Additional Revenues…. and better margins --- from an elevated "Market Differentiation" --- as an Expert…. in Trade Show Management and Support --- include (but are not limited to):
Storage & Fulfillment.
Personalized Invitations --- for Exhibitors.
Trade Show Advertising Premiums.
Trade Show Wide-Format Signage.
Sales Literature.
Fulfillment …of Requests by Show Attendees…who visited our Customer's Booth.
"Call Services" --- to qualify requests for Literature, ask thoughtful questions, and write informative, actionable reports to (a) Customer's Management and (b) Territory Reps.
Assist with set-up and take-down, repairs and shipments …of Show Exhibit Logistics.
Assist at Customer's Trade Shows….running errands, coffee, sandwiches, assisting with appointments (and becoming a valuable, informal member of the Customer's Trade Show Team).
Provide an ongoing stream of suggestions …for improved Trade Show Performance.
In checking back with our client's V.P. of Sales, re. his organization's follow-up …..of just their Trade Show follow-up from their Customer Survey….  he tells me:
Those Trade Show Services…are  increasing our… "Stickiness"….!
We've added numerous new Trade Show Service Customers  --- Customers we were already selling --- but not our "Trade Show Management Portfolio of  Services."
Our Customers' Marketing officers… love… what we're doing --- to make them look very smart.
And….we do not yet have Sales Literature…explaining our Trade Show Services……but hopefully one day we will…..which would allow us to offer those Services…. outside our immediate 30-mile Trading Region…
As a "Package" …..those Services tend to not… require competitive bidding.
SUMMARY:
So let's review:
We tend not to know --- which Customers are attending Trade Shows --- as Attendees….or as Exhibitors.
Our collective Trade Show Services… that would support Customers' improved Trade Show Performance --- are and can be….significant.
Too many Print organizations….do not know…. their Customer's business development challenges.
Too many Print organizations are looking…too often….just for an opportunity to Quote.
Too many Print organizations….don't have Self-Promotion Literature… that explains… how their Services…..can improve their Customer's profitability.
Too many Print organizations are paying association dues….with too little to show for " improved profitability"….as a return on their association investment.
Are we so used to our….conditions… that we have no intent… or recognition on how to improve performance… from resources and opportunities…that lie before us…?
"But wealth circulates with inconceivable rapidity…and experience shows that it is rare to find two succeeding generations in the full enjoyment of it."……………..Alexis De Tocqueville, Democracy in America, 1835.