ICON Digital Moves to Become the Icon of Inkjet Innovation
ICON Digital Productions has built a unique and innovative approach to graphic communications. Their Toronto-based 80,000 square foot headquarters is the center of the ICON universe. The company's four business divisions bring their services to a far-ranging international community of brand managers, marketers, creative consultants, and event planners under the simple yet powerful banner of "All Things Visual," with combined sales reaching $38 million in fiscal 2017.
The OutputLinks Communications Group team had the opportunity to sit down with ICON's dynamic leader, Juan Lau, to discuss the company's history, vision and never-ending drive to be the best at every business they build. Juan shares how this drive for excellence and innovation led ICON Digital Print to acquire the Konica Minolta AccurioJet KM-1 Inkjet Press.
ICON Digital joins the growing list of innovative printers who have embraced the AccurioJet KM-1.  You can Learn about them by downloading the AccurioJet KM-1 Business Success eBook.
History
ICON Digital Productions was launched in 1992 by founder/ CEO Juan Lau as a CAD (computer-aided design) service bureau. The company provided digital printing, reprographic reproductions, and digital archiving services for the architectural, engineering and construction (AEC) industry. In 1995, Juan and partners, Peter Evans and Peter Yeung, repositioned the company with a bold and aggressive strategy of being the first to market with digital large-format printing. 
All Things Visual
The ICON Digital Group operates under a "one brand" approach, with the simple mantra "All Things Visual." The company has organized into four divisions, each with expertise in a specific form of media communications.
"Always be at the forefront of digital innovation." 
The four divisions are:
"We don't believe there's a 'one size fit all' approach. We take a consultative approach with clients, and they see us more as trusted advisors than as a vendor".
Trusted Partners 
Juan shares, "Many of the multi-national clients we serve have different decision makers for different media, so we have positioned ourselves to be able to address all levels of media communications within an organization."
ICON Account teams support this consultative approach with deep expertise in their given field. They also have a good understanding of the capabilities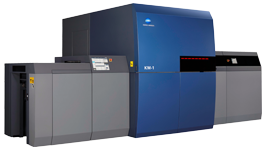 that exist within the overall ICON organization and can identify opportunities to bring broader value to their clients. This consultative and collaborative approach to "All Things Visual" is embedded in the organizational structure and operating principles of the ICON Digital organization.
ICON Digital joins the growing list of innovative printers who have embraced the AccurioJet KM-1.  You can Learn about them by downloading the AccurioJet KM-1 Business Success eBook.
Growth, Acquisition and New Spaces
In today's dynamic' ultra-competitive marketplace, mergers and acquisitions seem to be outpacing organic growth strategies. Juan describes ICON's current approach to growth, "For us, it is not about cutting costs but about expanding our capabilities and gaining access to new markets." 
Juan continues, "We recently added a commercial printing company and a video/design production company specializing in event marketing to round out our capabilities as a visual communications organization and drive the technology strategy to gain access to greater markets."  He adds, "clients are under increased pressure to try new things and maximize their media budgets, and that plays well to digital solutions."
Digital Technology Evaluations
Historically ICON was always pushing new technology that competitors did not have. Rather than a follower approach, they wanted to be the technology leaders.
As ICON's commercial printing division began looking to upgrade its variable printing capabilities, there were some reservations about going with "second generation" technology. Thus, they started researching the currently available digital production print solutions. After a thorough evaluation process, the focus narrowed to the Konica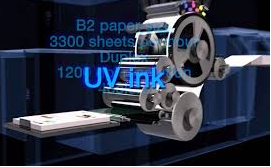 Minolta AccurioJet KM-1.          
While there were many traditional toner-based candidates to fill the digital inkjet press slot, ICON felt that the KM-1 met the capabilities they had determined were critical to their future success.  Consistency in look, color, and quality is crucial to many of ICON's clients, particularly at Point of Purchase and in-store displays. High on the list of winning features was Konica Minolta's UV ink technology. 
The ability to print on different substrates like plastics — and to print with the exceptional quality and duplex capabilities — moved the needle further towards 'yes.' The large sheet size provided a competitive advantage that closed the deal.
The flexibility and exceptional quality and color consistency of the AccurioJet KM-1 support the consistent brand identity for ICON's clients' demand.
These characteristics and capabilities resonated with ICON just as they did with the other innovative and highly competitive commercial printers profiled in the AccurioJet KM-1 Business Success eBook.
"We've done our homework, and we think we've chosen the right technology platform for our variable printing and direct mail business.".
Konica Minolta Partnership
ICON prefers partner focused vendor relationships. For Juan and his team, Konica Minolta meets and far exceeds that criteria.
"The Konica Minolta team was forthcoming. They gave us all the answers we needed. While there were much cheaper alternatives, the KM-1 offered superior features and cost benefits over other products in terms of driving new business opportunities."
"And I guess the other thing that resonated strongly with me was the fact that Konica Minolta proved once again that you do not have to be the first, just be the best."
Bill Troxil, Senior Vice President, Strategic Business Development, Konica Minolta Business Solutions USA, Inc., is excited about the partnership with ICON Digital. Bill shares, "The AccurioJet KM-1 is a revolutionary new product. It helps world-class printers, like ICON Digital, prepare for the future by adding value to print. The KM-1 expands a printer's wide array of offerings to existing clients while also moving them to new, high-value vertical markets."
ICON Digital Productions joins a growing list of world-class production print innovators who have embraced the AccurioJet KM-1. Get the AccurioJet KM-1 Business Success eBook and read how high-tech industrial inkjet is helping printers transform their businesses.  
A Sample Operational Workflow of the 
Konica Minolta AccurioJet KM-1 Inkjet Press