Cal Poly Raymond J. Prince Endowment Reaches Initial Goal; Founders Recognized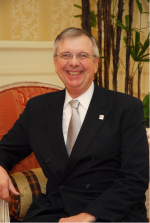 SAN LUIS OBISPO — Cal Poly's Raymond J. Prince Graphic Communication Future Leader Scholarship Endowment reached a milestone in its fundraising efforts by procuring an initial $30,000, in time to vest the endowment before the end of 2020.
The endowment was established in honor of printing industry veteran Ray Prince, who passed away May 1, 2020. Cal Poly Professor Emeritus Harvey Levenson and Graphic Communication Department Advisory Board member Ray Hartman led the two-part endowment fund drive. The first part has been achieved. The second part, to raise an additional $70,000 by the end of 2021 to enhance the endowment's annual earnings for student scholarships, is ongoing.
The funds will be used to establish annual scholarships in Prince's name and to further growth in the Graphic Communication Department. It will support students, teaching resources, and faculty development. It also will ensure ongoing student preparation to enter a dynamic industry serving the graphic communication needs of society today and in the future.
"These are areas that Ray Prince previously supported and deemed important in preparing students to become uniquely qualified to enter our industry," Levenson said. "With over 50 years of printing industry involvement, Ray was committed to the growth of the industry through service, education and employee professional development."
Hartman added, "Raymond Prince was an early mentor of mine as I was getting established in the industry after graduating from Cal Poly's Graphic Communication Department. He was a tireless champion to guide printers in making progressive capital expenditures and innovations in technologies for their growing printing companies. Ray also widely promoted the importance for owners to allocate funding and management mentoring sessions to educate the growing diverse workforce in printing companies for sustainable long-term success."
Founders of The Raymond J. Prince Graphic Communication Future Leader Scholarship Endowment include industry notables Sid Chadwick, Twila Cummings, Francisco Diaz, Laura Gale, Ray Hartman, Heidelberg Corp., Jerry Hill, Nelson Ho, John Hyde, John St. John, the Harvey and Barbara Levenson family, Jim Mekis, Guy and Elizabeth Montgomery, Michael R. Murphy, Joe Polanco, John Pope, Paul Reilly, George and Susan Ryan, Bob Tapella, Janet Treer, Colleen Twomey, Larry Warter, and Jim Workman.
"We are eternally grateful to all endowment founders and for the support that Ray Prince provided for our students, faculty, staff and overall facilities, said Colleen Twomey, chair of Cal Poly's Graphic Communication Department. We will continue Ray Prince's legacy in perpetuity through scholarships and program improvement initiatives in his name."
To participate in The Raymond J. Prince Graphic Communication Future Leader Scholarship Endowment, contact Twomey at [email protected] or 678-469-9726.
About Raymond J. Prince
Always a friend and supporter of education, Raymond J. Prince helped develop teaching resources and funded the Raymond J. Prince Graphic Arts Center (RJPGAC) at Cal Poly. He arranged many donations of publications, raised substantial money, and was responsible for the donation of the entire Printing Industries of America Wadewitz Library to Cal Poly, which now houses the largest graphic communication library in the world. The collection includes rare books, some dating back hundreds of years. It was important to Prince that the books remain accessible to students, faculty and members of the industry for research.
About Cal Poly's Graphic Communication Department
One of the largest and best-known programs of its kind, Cal Poly's Graphic Communication Department is nationally accredited by the Accrediting Council for Collegiate Graphic Communications and enjoys strong industry support through laboratory enhancements and endowments. Part of Cal Poly's College of Liberal Arts, Graphic Communication students learn how to communicate an idea, topic, thought or message through graphics and can adapt design solutions across a wide range of platforms, including different print technologies and materials, and electronic and web-based media. Students choose a concentration in graphic communication management, user experience/user interface, design reproduction technology, or graphics for packaging. The program also features a unique cross-disciplinary approach to prepare students for industry jobs or graduate school.