"Why Am I Hesitating…….I Don't Understand……..!"
For more
By Sid Chadwick, Chadwick  Consulting, Inc.
"You just don't luck into things as much as you'd like to think you do. You build step by step, whether it's friendships or opportunities"…….…………………………………………………………...Barbara Bush
INTRODUCTION:
Tuesday this week, I was in the middle of a mid-morning breakfast at a local restaurant, slowly recovering from a 102 degree fever over the weekend, when the call came in……. It was Paul, and there was stress in his voice.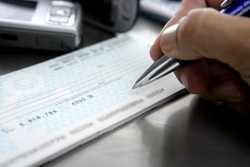 "I've finally, after six months of multiple negotiations and disappointments, got the loan approved, paperwork from the banks is on my desk, right here; the check to write is in my hands, and I can't….for some reason…..sign the paperwork…….and the check……I've repeatedly backed away…..What's going on.?"
"Tell me what you're feeling, Paul…."
"I'm thinking about the commitments this means…..the years this requires…..and the responsibilities I take-on……my daughter's gotten her graduate degree….my wife is ready to retire…..and I'm about to make by far the biggest capital investment this company has ever made…..and look at all the chaos that's going on around us in the country……..!"
"May I review a few facts?.....You've increased your production over 50% in the last 3 years, without increasing your payroll more than two-to-three people…..your customers love you (…you had a 46% Response Rate on your Customer Survey..!)…..your profit margins have tripled……you're building has increased in value about 40%......you've already made most of the plant improvements that were required….you've set aside a 10% down payment…..you've fired two dishonest bankers --- telling the officers to never call you again….your loans allow you to pay them off early --- without penalty…..and you've committed to Komori….because they were most truthful upfront…. and offered better overall value (that's a whole separate story…!)……"
"Now listen….there's more coming at you……you need to be prepared to buy a new plant building that's twice your current size --- in less than three years…..and my guess is…with our industry's increasing "Consolidation"……you'll receive an offer in four - five years that would pay you easily 6-7X EBITDA….your performance….just outside Manhattan, will be impossible to hide…partly because of how well you're company is run, and your profitability, and how loyal your customers…and suppliers…and employees…are to you……in these past three years, not one employee has left your company…..when they are hired, and make it through the first 90 days, they become family.
"I know…..but why am I hesitating to sign those documents…..and checks……Mom and Dad were immigrants to this country, and sold me the company 20 years ago……..I've a family legacy to protect…."
"Three years ago, you learned how to develop your Plant Supervisors, and you taught them to think differently, and to Measure…and Plan….you demanded they step-up. Over those three years, you learned how to make and Plan effective Prospect appointments….and that you had the instincts to develop major Non-Profits --- with two of the largest, richest AFP Chapters in the U.S. --- within 15 miles of your plant….."
"And…..you know, from several angles of calculations….. that the new Komori Press --- will more than double your profitability…..yes…?"
"Yes…!"
"Paul, if you don't sign those papers, and that check, your employees, who have bought-in to your dream, will be deeply disappointed….but I believe not one will leave your company……However, if you don't sign those papers, and that check…… I  believe --- the way you are wired, and what you've done to get to this point…..you'll hate yourself coming to work…..every day…….(….Long Pause……)"
"………..I've got it……we don't need to talk any more…..thank you for your time and letting me interrupt your morning…..I've got it……"
SUMMARY:
As Paul goes forward, there will be a growing number who want to become associated with his company……suppliers……advisors… who offer invitations to dinner….and Conferences……..brokers who want his company's reliability…and Integrity…..and Non-Profits…..who learn of Paul's personal ability to improve their fundraising results.
What does your dream look like…..? (Do you have good counsel….and a Plan that makes sense…..?)
We were introduced to Paul by Nelson Ho (412-996-0338), a premiere advisor on OSHA and EPA regulations….which tend to be especially critical…. when company ownership is about to change.
Greatness requires thoughtful commitment, time, disappointment, temporary defeat(s), more time….and a dream…..of what could be.  
Otherwise, there'd be no honor in it.
Two big questions: "What do you want in life, and what price are you willing to pay?"
Our industry continues to reward…..those willing to put thoughtful, good business practices….. in motion……
"When the confetti shower was over, the night felt like something even bigger than a single national championship party. It was a moment that had been 10 years in the making."……..Sports Illustrated