Sustained Comfort…Tends To Be…. Deadly
For more
By Sid Chadwick
"All progress takes place outside the comfort zone."……Michael John Bobak
INTRODUCTION:
Over the past week or two, news of our "Online Graphic Communication Curriculum from Colleges and Universities for Company Employees" - began to slip-out to a few influential communicators and thought-leaders in our great industry.
You can access this revolutionary new information resource by going to:
https://www.chadwickconsulting.com/_files/ugd/5cfe2f_c6ead167db8241c3b460e74880dfefc0.pdf
A GAME CHANGER
This new information resource is a "Game Changer" for every printing company and related service provider, Original Equipment Manufacturer, and school of higher education with a graphic communication curriculum.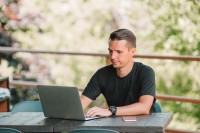 For employees, desiring to elevate and update their technical knowledge, online learning has proven its ability to upgrade and power forward a company's intellect and innovation.
Now our universities, colleges, and schools "see the light" of a totally new market and industry need, by designing a curriculum that can be taken online from an employee's desk at home, or at work.
This recognition is a strategic Game Changer for company owners, their brightest and most ambitious employees, and our graphic communication education programs.
To work effectively in our industry, owners and employees need to steadily upgrade their technical skills and understandings – throughout their career. Too often, however, needed technical skills and understandings are illusive - even outside their own organization.
Additionally, over the past several decades, traditional and technical schools closed down their "print shops" – representing a declining source of skilled employees for our industry. Colleges and universities with "print programs," with ever-more complex technologies requiring investments being introduced, were required to adopt "design and digital program curricula" to keep their too often dwindling student enrollments alive.
The Pandemic's timing forced schools to adapt their curricula to Online Courses. Online Courses have been, for the most part, effective, when online learning was the only logical alternative for learning and training. Additionally, the new opportunity for working employees participating in the same virtual classroom with fulltime, degree-seeking students would understandably raise the value of the class and curriculum discussions – for everyone involved in teaching, training, and learning.      
The selection of courses available for online learning for company employees can appear mesmerizing, but are well worth your time to review.
SCHOOL AND COMPANY PARTNERSHIPS
My personal attention naturally goes to "Data Mining" at the University of Houston, which has grown that specific curriculum to about 8 classes a year, since 2015. That course introduces students to a series of real-world Case Studies, to be solved through the use of multiple public databases, and class discussions. (To my knowledge, at this time, no other school teaches the use of these public databases to solve everyday business problems.) Professor Mark S. Hargrove is the instructor, and through Department Coordinator, Dr. Jerry Waite, both Mark and this course content - are available to other Graphic Communications schools.
Note: Students successfully completing this course are reportedly sometimes hired – often outside the Print industry – before graduating…because of this course content!
SUMMARY:
Online learning, from home or work, for your brightest and best employees provides options and hope for a brighter future. Online learning can result in: (a) providing a motivating reward to your entire organization, certainly (b) your brightest and best, and (c) radically changing your employee recruitment strategy
Employees engaged in online learning should expect to draw the attention of your suppliers, for learning which of their potential customers - are committing to a better, longer future…! Long term committed presence of key industry suppliers to this program is almost a given, as key suppliers are strong supporters of our industry's graphic communication schools. 
Online learning for your organization re. ongoing needed skills and understandings, can change our industry's reputation and perceived future – and should provide a Recruitment Tool and Strategy – for the brightest and best. 
And…. online learning for current employees, should change and expand both curriculum strategy development, and options – for colleges and universities – with Graphic Communication programs.
This is a new and powerful tool that can accelerate our industry's future.
"Just when the caterpillar thought the world was ending, he turned into a butterfly."……………….Proverb