GSM a Premier Automotive Marketing Company Specializing in Omnichannel Marketing Solutions
For more
GSM opened its doors over 30 years ago to serve the direct mail needs of one of the nation's largest private automotive distributors.
Today, GSM has evolved into a full-service marketing company that specializes in digital and direct solutions for nearly every automotive brand, including manufacturers, dealer groups, and individual dealerships across the United States.
The OutputLinks Communications Group recently spoke with GSM's Director of Operations, Kristi Pierce, and Michael Rowell, Director of Marketing, to discuss the factors that drive the company's long-term success. We also learned of the client-driven objectives that led to GSM's acquisition of the Konica Minolta AccurioJet KM-1 LED UV inkjet press.
Success Factors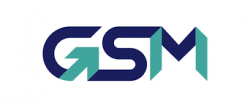 Providing omnichannel marketing services for high-demand global brands requires a careful mix of three things: creative talent, operational excellence, and business intelligence supported by state-of-the-art technology.
Here are some of GSM's key benchmarks for excellence:  
Innovation: Growth fueled by a clear purpose and efficient process;
Client-Focus: Why it's always about putting the customer first;
Timeliness: Accomplish what needs to be done on time and on budget;
Operational Effectiveness: Operate with no negative impact on overall workflow;
Quality: Output meets or exceeds the high bar of excellence expected by clients.
GSM delivers exceptional value through a highly effective organization that carries forward the company's commitment to customer success.  
We Are GSM
We help our clients win with data-driven strategy, technology, and creative—backed by three decades of working with the best brands in the business.

The GSM team is made up of people with a broad range of disciplines: martech, marcomm, data intelligence, end-to-end omnichannel marketing, and variable data-digital print production.  
The team also includes many long-tenured associates, some of whom started with the GSM parent company over 20 years ago. Obviously, people stick around GSM for good reasons. It's this commitment to a positive workplace culture that landed them a spot on the Houston Chronicle's Top Workplaces list.
From the GSM website
Recent scientific studies have determined because mail is tangible, consumers experience an emotional connection and perceive an increase in value from it.  Automotive direct mail continues to thrive in the digital age because it's both highly targeted and trackable.

Consistent investment in high-tech innovation is the foundation of GSM's expanding portfolio of marketing solutions. One excellent example is atom.
Automotive Total Marketing
Michael Rowell described GSM's lifecycle marketing platform, named atom (Automotive Total Marketing): "atom helps our marketers manage their omnichannel communications, from creative input through the distribution for print, email, telephone, and text. The platform puts the customer experience at the center, giving GSM the insights and controls to optimize marketing performance and value for its clients."
The atom platform integrates GSM's three decades of experience with the latest technology to produce results for its clients.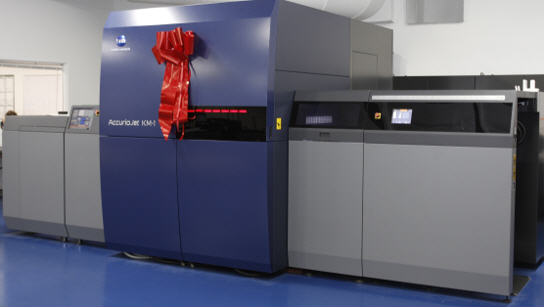 The Inkjet Journey
With an eye toward increasing productivity, efficiency, and quality with state-of-the-art toner printers, Inkjet was not considered as a viable option initially.
Kristi Pierce shared, "Our initial research steered us toward toner-based equipment as we found inkjet did not produce the quality of product that GSM requires. It wasn't until Print '17 that we had our first exposure to Konica Minolta's AccurioJet KM-1."
Technology is acquired only when it demonstrates that it delivers the levels of performance excellence GSM demands for its clients. 

As an existing Konica Minolta customer, GSM began discussions to replace its toner equipment with the KM-1 inkjet. Multiple tests were run with GSM's existing applications to evaluate the AccurioJet KM-1's LED UV inkjet technology.  "The results were impressive," said Pierce.
"Multiple stakeholders compared printed samples from several toner and inkjet systems, and the AccurioJet KM-1 output won unanimously over toner."
Ready to Install
To accommodate its plans for efficiency and productivity, GSM needed to fully reconfigure its production facility to house the new printing technology. Using Lean Manufacturing concepts, GSM's plant was configured to create a lean workflow from incoming raw material to shipping without wasted movement.
Kristi described the transition and support from Konica Minolta, "The delivery and installation of the AccurioJet KM-1 went extremely well. The Konica Minolta team is amazing, and as promised, they stayed on site until our operators were fully trained and certified. They remain available to us for anything we need, whether by phone or in person. The AccurioJet team brings a personal commitment that shows you're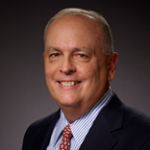 working with people who care about your business. They exemplify the commitment GSM expects from all of our partners."
"Konica Minolta is proud to be a strategic partner with GSM," shared Bill Troxil, Senior Vice President, Strategic Business Development, Konica Minolta Business Solutions USA, Inc. "We look forward to supporting their efforts to grow their business by providing them the world's best UV inkjet press, the AccurioJet KM-1."
A G.E.M. of a Printer
GSM's print expansion project was nicknamed "G.E.M.", which stands for Grow-Expand-Multiply and which was aptly selected as the name of its new gem of a printer.
The team loves G.E.M. and is more than impressed with how easy it is to operate and maintain. The AccurioJet KM-1 investment was justified with definitive productivity gains; increasing GSM's available print capacity, and improving overall print quality.
The transition to the KM1 provided other measurable benefits with a streamlined production environment.
Time: The Critical Success Factor
Clients trust GSM to produce time-sensitive campaigns that are often driven by offer expiration dates. If a mail piece fails to arrive on time, the customer call-to-action offer may not be valid, and a client's marketing investment suffers.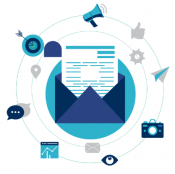 Before the AccurioJet KM-1, the print dry time extended the production process. Now with the AccurioJet KM-1's LED UV inkjet technology, there is no dry time required. Therefore, printed sheets can be sent directly from the AccurioJet KM-1 to finishing and then mailed.
The AccurioJet KM-1's high quality, reliability, and capacity have allowed GSM's production team to nearly double their print capacity. Shorter production times and enhanced print capacity mean more campaigns make it to the mailbox sooner, driving even greater success for GSM's clients.

Long Term Benefits
Kristi said, "With the added capacity of the AccurioJet KM-1, GSM is positioned to grow and expand our print production as we continue to expand our customer base. Not to mention, we have the added benefit of expanding the types of substrates we can print on."
Michael added, "Between the AccurioJet KM-1 and the great, creative people we have on staff, the sky is the limit on what we can produce for our clients."
In Closing
As GSM continues to accrue the benefits of their Inkjet investment, they are keeping an eye on new project opportunities that can take greater advantage of the power and range of their AccurioJet KM-1 LED UV Inkjet Press.