Franklin: Trailblazing Client Relationships with Automated Technology That Brings People Together
For more
Originally published November 15, 2019
Franklin delivers its clients' direct mail success through a compelling portfolio of data management, multi-channel, and direct marketing skills. To provide the required high-impact direct mail, Franklin maintains a fleet of production printers and expanded to invest in the leading-edge Konica Minolta AccurioJet KM-1 UV inkjet press.
The extensive technology investments at their Baton Rouge and Memphis facilities support the company's primary key to success - building trusted client relationships.
The OutputLinks Communications Group had the pleasure of speaking with Craig Chumney, Franklin's Co-Owner, to discuss the company's principled pathway to leadership in direct mail and trusted client relationships.

Building Trusted Relationships
The trusted relationships the Franklin team enjoys with clients results from the company's commitment to "delivering measurable, profitable direct mail in the right way, to the right person, with the right expression."

Consistently meeting that relationship commitment requires investments in best-of-breed services to provide clients easy access to Franklin's systems and minimize delays in the production process. Two examples are:
Franklin's Client Portal service, a secure, web-based portal for 24-7 direct access for job submission, proofing, monitoring, and inventory tracking. Each portal dashboard displays current projects and the status of each project component.
FranklinFast which creates client-specific workflow solutions to automate repetitive direct mail jobs for flawless execution.
 
Evolution of a Leader
The Franklin Printing Company story begins in 1922 as a two-person family business with a culture of respect for clients, trust in employees, and straightforward collaboration with vendors and partners. The company has evolved over the past 97 years, but the founders' guiding principles have been maintained and integrated into every aspect of the company. With that principled growth, Franklin has developed as a leader and trail-blazer in Data Empowered Direct Mail.
Growing to Better Serve Clients
Since Franklin's founding in 1922, the leadership team has embraced both organic growth and strategic acquisitions to build upon current strengths while opening paths to new opportunities in services for their clients. Over the next seventy years, the company's large printing complex had earned a reputation for quality commercial printing. To position the company for the future, Franklin launched strategic enhancements to its technology, expertise, and geographical coverage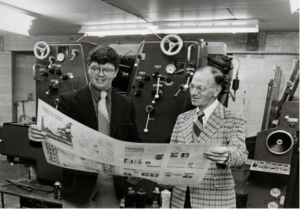 beginning in the mid-1990s:
In 1995 a new quick-print division, Federal Copies, was launched.
In 1996, Franklin merged with Digitrans, a data processing company with database, lettershop, and laser printing expertise.
In 2007, the company opened a new Memphis facility to better serve a growing clientele in the gaming, financial services, marketing, and non-profit sectors.

The Digitrans merger led the company to evolve from its general commercial print legacy to a new focus on data-driven direct mail. Today 90% of the company's revenue is derived from Data Empowered Direct Mail.
 The Offset to Digital Transformation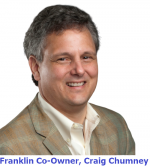 Craig Chumney, who founded Digitrans and is now Franklin's co-owner and self-described Chief Geek, shares: "If you look our business today, most of the revenue still comes from putting ink on paper, but almost none of our business is acquired by going out and selling a print job. We are focusing on adding value to the data and mailing components."
The decision to move from commercial print to the world of data-driven marketing and mailing happened quickly after the Digitrans merger. But the business transformation took time due to the two companies' differing environments. The Digitrans team operated from a data-centric mindset while the Franklin Press employees were rooted in commercial print.
The two teams' eventual adaptation to the new environment was fostered by the "culture of trust" instilled by the company's founders. The impressively high percentage of long-term employees reflects the success of Franklin's transformation.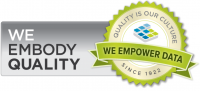 Client-Focused Investments
Throughout Franklin's history, investments in technology, acquisitions, and partnerships have been made from a client-focused perspective.
The company's recent technology investment in the Konica Minolta AccurioJet KM-1 UV inkjet press is but one example of that client-focused investment. The AccurioJet KM-1 combines the speed and flexibility of offset presses with the digital benefits of variable data printing to significantly enhance their clients' options for the highest quality in personalized direct mail.
However, Franklin's success formula goes beyond technology, acquisitions, and partnership investments. The company also invests heavily in providing employees ongoing training opportunities to increase their skills and experience. The result is a team of long-term employees who consistently growing their technology and people skills to better serve clients.
Craig points to this employee longevity as a core competitive advantage. Franklin programmers and technical support people work closely with clients in a highly collaborative environment. Clients have a high comfort level with the Franklin team as they recognize the value of a stable group of experienced professionals.
FranklinAPI empowers client automation of the direct marketing process.

Client-Driven "Hands-Free" Automation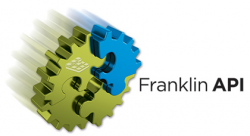 Franklin's commitment to continuous improvement led the company to develop FranklinAPI, a client-focused application programming interface. The API provides a secure automation tool that connects a client's system to Franklin's production facilities for seamless project initiation and status updates. The company's workflow system collects data from job submission to postal delivery, and the FranklinAPI allows clients direct access to that important data.
Franklin Culture Statement
"We believe good relationships build a better business for all of us."  
The Benefits for Clients
Trusted tools and processes
Skilled employees invested in client success
Clients have insight and control over their campaigns
Client have closer relationships with the people who do their work

Seeking the Best Print Technology
Franklin's continuous improvement commitment recently drove the company to find the best print technology for more impactful direct mail.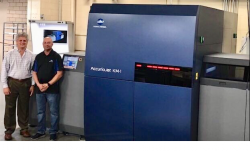 Craig and his team developed a rigorous, in-depth process to compare offerings from the leading production inkjet vendors. The team chose not to rely on vendor-supplied printed samples and controlled testing. Instead, they produce test mail pieces on different types of materials using the printers that were under consideration. The mail pieces were then sent to various destinations via the postal service. This exercise provided a real-world view of how each printer's output looked after the stresses of sorting equipment, transportation, and mailbox delivery. The primary evaluation metric was the appearance of the mailpiece when it arrived at its destination.
The rigorous investigation and testing process led to Franklin's selection of the Konica Minolta AccurioJet KM-1 UV inkjet press. As a result, Franklin's clients now enjoy greater flexibility in high-quality, high-impact direct mail due to the AccurioJet KM-1's advanced UV inkjet technology.
The Key Decision Differentiator
When asked what drove the final selection, Craig responded that although the AccurioJet KM-1 was superior to competitive printers, it was the Konica Minolta team's client-focus that was the key differentiator.
 "Our clients see us as a trusted partner, and they value our culture of commitment to their success. We found that the Konica Minolta team operates similarly. They respond to our needs with great technical, operational, and business development ideas that help us take full advantage of the capabilities and opportunities the AccurioJet KM-1 Press brings to our business. The decision-makers are involved and responsive. They operate how we operate, client-focused and completely invested in our success."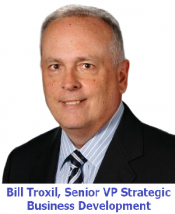 The Konica Minolta Partnership
 "Konica Minolta has provided Franklin with the latest UV inkjet technology to make them a premier provider of solutions to their customers.  Earning their endorsement with the AccurioJet KM-1 UV Inkjet Press is another example of how our Customers are growing profitably with the Press."  Said Bill Troxil, Senior Vice President, Strategic Business Development, Konica Minolta Business Solutions.
Into the Future
As Franklin looks to the future, they remain committed to:
Supporting their clients' success with high impact direct mail;
Getting better every day based on the core values that have guided their nearly 100-year success journey;
Enhancing integrity-based relationships with technology partners, like Konica Minolta;
Building trusted relationships with a growing family of successful clients.
 
Franklin employees know that their client relationships positively impact the success of projects.