Hummel Integrated Marketing Solutions Leveraging Over Four Generations of Experience to Enhance Their Clients' Success
For more
Over successive generations a commitment to relationships has been the foundation of Hummel Integrated Marketing Solutions' success model. Clients and partners enjoy an open and positive business relationship fostered by the company's collaborative DNA. With 135 years of experience supported with world-class technology, like the AccurioJet KM-1 LED-UV Inkjet Press, Hummel 's clients receive the absolute best in print, data-driven marketing campaigns, and premier mailing services.
Hummel's production facility in the New York/New Jersey area, serves a broad range of companies, including local, regional, and national brands, higher education institutions, and political campaigns. As an extension of its collaborative culture, the company also serves as a trusted provider to other printers and brokers desiring access to its print technology and expertise.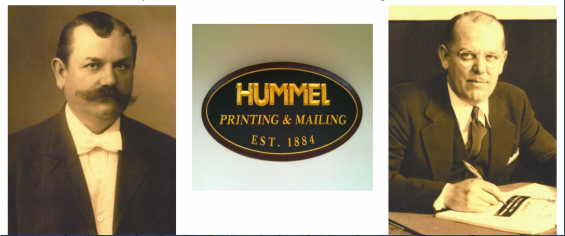 _________________________________________________________________________________________________________
The Hummel Solutions story begins with a cart, a horse, and a hard-working entrepreneur focused on bringing the news of the day to his community.
_________________________________________________________________________________________________________
History
 Fourth-generation family member and CEO John Hummel recounts the early days of the business. "In 1884, my great-grandfather started Hummel Distributing in New York with a horse and buggy. He would supply workers with flyers, newspapers, and other communications for door-to-door delivery. My grandfather continued with the delivery business and added mailing services."
The evolution continued as the next generation of Hummel leadership added limited print services to support their mailing services. With more equipment and personnel required to serve the expanding client base, the company moved to a larger production plant. The expanded plant included space for an on-site United States Postal Service facility. The on-site postal facility helped ensure that Hummel's client projects made it into the mail ASAP.
An Ability to Change To Meet the Need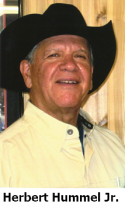 Herbert Hummle Jr., John's father, owned the company, which meant John worked there during his pre-university years. His college of choice was Rochester Institute of Technology, where he endeavored to learn the business of printing. "I went to RIT to learn about printing management. The original plan was to earn my degree, work at a big commercial print company, and then a few years later use that experience and

knowledge as I went back to work at Hummel. However, in my senior year, the employee who ran Hummel's print shop passed away. Since my father had little knowledge or interest in print, he asked me to come back after graduation to run the shop."
John brought his RIT education and skills back to the family business. Under his leadership, the company continued expanding, building on core capabilities, and adding value through new services and advanced technology investments.

Some Things Remain
Since 1884, the company has continuously added tremendous capacity and capability. Even with its extensive service and technology expansions, Hummel remains a personal, relationship-driven company. Clients execute top-level campaigns by partnering with Hummel's innovative, experienced staff of print, creative services, mail, postal management, data, and campaign management professionals.
_________________________________________________________________________________________________________

Hummel's 135-year collaborative, partnering culture has employees and clients working together to generate successful campaigns with measurable results.
_________________________________________________________________________________________________________
Serving Clients Locally and Nationally
Integrated Marketing Solutions supports a wide range of local and national businesses and organizations. A few examples are:
A regional supermarket uses Hummel's data management and variable print messaging for weekly customer mailings personalized by their buying history and preferences;
Political campaigns are supported by Hummel with over 20 million mail pieces produced during peak election cycles;
Non-Profits utilize Hummel's capabilities to produce and distribute their critical fund-raising campaigns and subscriber communications;
Colleges, Universities, and other educational entities rely on Hummel for their student recruitment campaigns and their brochures, catalogs, and programs;
Commercial printers in the region use Hummel as a trusted partner for overflow and specialized printing on an as-needed basis to fulfill their customer's orders.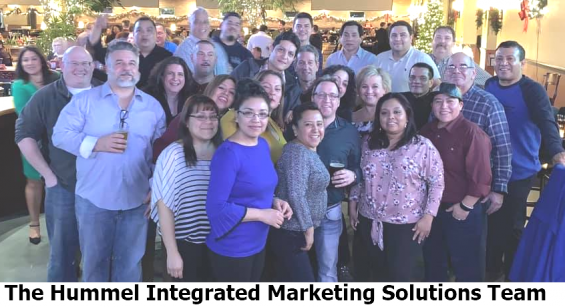 _________________________________________________________________________________________________________
Clients and partners enjoy an open and collaborative business relationship. The Hummel team's collective experience guides clients to the best solution for their specific campaign objectives.
_________________________________________________________________________________________________________
Premier Quality
Hummel's client list includes top-end clothing, jewelry, autos, and premium spirits companies that require a full range of innovative, high quality printed materials to represent their brands.
Sophisticated marketing campaigns rely on a wide range of printed and digital channels. In the retail environment, everything, from window displays to augmented reality, is designed to catch attention and drive consumer action. Each presentation piece must be rendered with consistent, accurate, and vibrant color on a variety of materials. Hummel's broad range of marketing and printing services can produce everything for a client's campaign - from signage to direct mail.
Hummel assumes the responsibility to produce the most impactful direct marketing campaigns for its customers. That responsibility means the company is consistently looking for the very best in new technology to meet their client's needs.   
AccurioJet KM-1 LED-UV Inkjet Press
When Konica Minolta began developing its game-changing press, they invested significant time and resources meeting with leading print providers to gain an understanding of their inkjet technology requirements. Because of Hummel's reputation for innovation, John was invited to participate in those pre-development meetings.
Konica Minolta's production inkjet development team spent time at the Hummel facility, speaking with operations and management staff as well as observing the various pre and post-printing workflows. Those meetings were crucial in Konica Minolta's determination of the features needed to produce a high volume inkjet press to meet the production print industry's future needs.
When Konica Minolta launched the AccurioJet KM-1 LED-UV Inkjet Press, John was impressed. It seemed evident that Konica Minolta had listened to and incorporated the features he and other print professionals had specified, like expanded sheet size, excellent image quality, and an extended range of printable substrates.
Even so, John's healthy degree of skepticism led him to wait to see how the initial installations fared. John was impressed by what he heard from the initial buyers, especially regarding the extremely high rates of support, productivity, and uptime.
As John compared all the options in the production inkjet press space, none equaled the AccurioJet KM-1 LED-UV Inkjet Press' reliability, flexibility, and quality output.
Another essential factor for John was the AccurioJet KM-1 LED-UV Inkjet Press' overall design. Having a long history with offset presses, John was impressed with the fact the AccurioJet KM-1 LED-UV Inkjet Press integrated the proven reliability of an offset press chassis with Konica Minolta's LED-UV inkjet technology. That meant it had the excellent design features of the working presses Hummel had depended on for decades, merged with the best in LED-UV inkjet.
As a result, John bought the AccurioJet KM-1 LED-UV Inkjet Press much quicker than initially anticipated, which allowed his clients a broader array of high-quality, creative print options sooner versus later.

Konica Minolta's Bill Troxil, Senior Vice President, Strategic Business Development, said, "We appreciate our new strategic partnership with John Hummel and his team at Hummel Integrated Marketing Solutions. John's 4th generation knowledge of print and his understanding of this technology are un-unparalleled, and his wide array of clients are benefitting."
More Production in Less Time
The printer's straightforward, offset press body-style was familiar to the veteran analog inkjet press operators, which allowed them to support the new digital inkjet system more readily. Also, the AccurioJet KM-1 LED-UV Inkjet Press' simple paper path and operator interface allowed a smooth and seamless integration with Hummel's production workflow.
The digital press's speed combined with the larger sheet size capacity means more print is produced in less time. Moreover, LED-UV inkjet allows printed output to move immediately to the finishing and mailing stations without ink drying time delays. Consistent uptime and throughput present Hummel the opportunity to add volume without adding real estate.
The sum of all these benefits means Hummel can now offer clients exceptional print quality, a more extensive array of creative print options with faster time-to-market times.
Exceeded Expectations
Hummel's experience with the AccurioJet KM-1 LED-UV Inkjet Press has exceeded John's expectations. The AccurioJet KM-1 LED-UV Inkjet Press gives Hummel very reliable and high throughput, image quality that rivals an offset press, an excellent variable data printing interface, and support for the many substrates, from offset to synthetics, that Hummel's customers demand.
On top of that, the AccurioJet KM-1 LED-UV Inkjet Press features operator replaceable parts. Maximum uptime is essential, and a strategy for the operators to maintain their machines themselves proactively is a perfect fit for Hummel's hands-on offset press and traditional toner operators.  With the global service support for the AccurioJet KM-1 LED-UV Inkjet Press located here in the United States, 30% of all service calls can be resolved remotely.

They say that a craftsperson is only as good as their tools. That's why Hummel knew that choosing the right inkjet press was a make or break decision. By selecting the AccurioJet KM-1 LED-UV Inkjet Press, they have guaranteed that they can deliver the sophisticated, high quality, variable data printing services that today's discerning marketers demand.
Into the Future
Hummel Integrated Marketing Solutions' expanded in 135 years from door to door insets, to mailing services, to print and now to LED-UV inkjet. The company's close collaborative relationships guide its investments in the right technology at the right time with the right expertise to support the future print, mail, and direct marketing needs of its honored clients.
_______________________________________________________________________________________________________