The Rewards of Eco-Friendly Printing
For more
Sustainability has become a critical factor in a commercial printer's success. Kodak's environmental initiatives include products supporting customer environmental initiatives and recognition programs like the KODAK SONORA Plate Green Leaf Award.
The SONORA Plate Green Leaf Award program celebrates printing industry leaders who are adopting sustainable practices within their businesses, and who are offering clients environmentally friendly options that meet their printing needs.
KODAK SONORA Process Free Plates are a centerpiece of Kodak's sustainable product offering. Because SONORA X Plates offer features similar to traditional processed plates, now 80% of printers can adopt process free plates. More information>>>

Green Leaf Award
Kodak clients that demonstrate environmental responsibility are eligible for recognition through the SONORA Plate Green Leaf Awards Program. Over the program's five years, Kodak has honored winners from around the world including the following companies in 2018: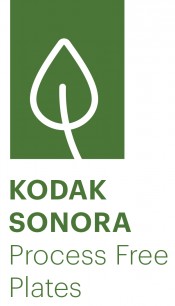 Canada - Mitchell Press
China - Hebei Xindong Printing Co., The Profeather Printing Co., Ltd.
German - Presse-Druck- und Verlags-GmbH
Indonesia - PT Gelora Aksara Pratama
Japan - Toyokuni Printing Co.
New Zealand - Stuff New Zealand
South Africa - Colour King
South Korea - SRB Printing
Sri Lanka - Wijeya Newspapers
United Kingdom - Blackmore Group
United States – Leanin' Tree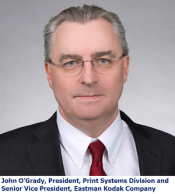 Rewarding Environmental Responsibility
"SONORA Plate Green Leaf Award winners are exemplary examples of putting sustainability practices into action," said John O'Grady, President of Kodak's Print Systems Division. "The specific outcomes that each of these printers yields from incorporating more eco-friendly actions into their whole business are quite tangible, from reduced operating costs to measurable increases in key performance metrics that benefit their customers."
As a KODAK SONORA Process Free Plate user, your company could be the next winner of a SONORA Plate Green Leaf Award. To apply by November 30 >>>

Embracing Change
Environmental awareness is not just "nice to do," it has become a fundamental driving force in the world of print. Many of today's major print buyers incorporate environmental requirements into their service level agreements (SLA).
Kodak has over 4,000 SONORA Plate customers worldwide

Every operation, no matter the size or location, has the opportunity and responsibility to contribute to environmental sustainability while also sustaining profitability. Being sustainable is both responsible and profitable.
Successful printers continually examine how to improve the appeal of their products and services to prospective buyers. Environmental initiatives in responsibility are apparent to print buyers seeking environmentally focused service providers. Hence, every step towards the best in sustainability creates new business opportunities.

Successful Stewardship
Among the growing number of commercial printers who have embraced the KODAK SONORA X Plate technology, two organizations stand out for their environmental awareness and ongoing commitment to investing in sustainable business practices.
Mitchell Press
Two-time SONORA Plate Green Leaf Award winner Mitchell Press is a high speed, premium quality, commercial printer that demonstrates excellence in sustainability throughout its impressive operation. The Canadian company embraces a wholehearted commitment to environmental responsibility and sustainability across their entire enterprise. 
Their operations team has a production mindset that places a high value on sustainability programs and policies, which includes their use of SONORA Plates. Mitchell Press is committed to maximizing the recycling of materials including paper, cardboard, and ink. Wood, plastics, and organics are also recycled. The company also has on-site organics digester and a garden.
Investments in infrastructure components such as advanced, energy-efficient HVAC and IT systems, provide substantial environmental and operational benefits.  The company's environmental sensibility also extends to community responsibility through donations of unused electronics for reuse by charitable organizations.
Environmental education and awareness are built into Mitchell Press' culture with a consistency of staff training on best practices for sustainability. Another component of the company's initiatives is providing clients data to document the environmental gains they can record by using a green-focused printing company.
Read more about Mitchell Press's sustainability success here.
RSA Litho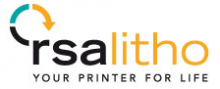 South African commercial printer RSA Litho earns success by understanding that clients require adaptability and responsiveness to their company initiatives. Since many of RSA Litho's clients share an ever-growing awareness and concern related to print's impacts on the environment, the company responded.
RSA Litho has a commitment to environmental sustainability while improving the bottom line. For example, the initial cost of SONORA Plates may be slightly higher than traditional plates. But SONORA Plates saved RSA a minimum of 15% in the initial few months of use by eliminating the need for chemicals and water while minimizing equipment, processes, and energy costs. SONORA Plates are a true win-win since they allow RSA Litho to be responsive to their clients' environmental initiatives while also cutting cost.
RSA's employees find working with SONORA X plates bring significant time to market benefits with shorted job turnaround times and fewer processing steps. The quality, precision, and stability of the SONORA X plates deliver exceptional print that clients notice and appreciate.
This short video provides more about sustainability at RSA Litho Printers.
Success Brings Success
The number of SONORA X process-free plate users is continually growing. The successes printers around the world are enjoying can be reviewed on Kodak's blog. The blog postings provide valuable insights into how printing operations can increase eco-friendliness while also gaining real, measurable bottom-line results.