The Transformation of Mitchell Press
For more
How do you transform an almost 100-year old publication printing company to position them for explosive post pandemic growth and a dynamic and changing environment? Make sure you have good partners.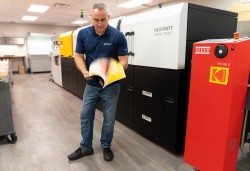 For over three generations, Mitchell Press has been one of the premier high-speed lithographic printers in Canada. Their success is attributed to their willingness to encourage creativity and experimentation while delivering quality and unwavering dedication to their client base. According to Scott Gray, VP Sales and Marketing, "you have to be able to deliver on your promise and make the client look good. It has to be at a reasonable cost and knock their socks off, and that's our mandate."
Going Digital
As a high-end print marketing company with large investments in heat set web technology, Mitchell Press recognized the tide of change 5 years ago. In the pressroom, they had been focusing on high speed offset, producing print quality off their web at higher line screens than most sheetfed operations thanks to Kodak Maxtone 240 lpi hybrid screening. Then they added an entire new digital division, anchored with the purchase of the KODAK NEXPRESS ZX3300, their first sheetfed digital press, to focus on shorter runs and new applications. As they started to re focus their operation, things started to click, and President Garry Gunter was recently encouraged to upgrade their 100 pg/min KODAK NEXPRESS cut sheet digital press to a 140 pg/min KODAK NEXFINITY Digital Press.
The installation was done over a weekend. They left business on a Friday and when they came in on Monday, they were running production jobs! Practically, they swapped the print engines and retained the embellishment modules. The operators were amazed at how quickly it was done and how easy it was for them to transition to operating the new press.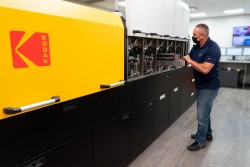 According to Gray,"The new press has been fantastic for short run embellished high-end journals, custom books and presentations." In addition to using the new digital press to expand into new print offerings, they also found ways to use it with their existing publication base in a complementary way. They recently completed 150,000 perfect bound books with interiors printed on the heat set web press and 150,000 uniquely variable covers printed on the NEXFINITY. It was a great success, although it did take the perfect binder operators a while to realize that while the covers were different it wasn't an error!
"The quality and 5th unit embellishments like Gold, Metallic, RGB, Dimensional Clear and Opaque White enable our clients to test smaller markets with offset-like results, the line between offset and digital is getting harder to identify."
To complement the new press and direction, they recently acquired two trade binderies, the first which specialized in case binding and rigid box manufacturing and the more recent acquisition which specializes in perfect binding, coil binding, stitching, folding, and assorted embellishments. They brought on the production teams in addition to the equipment and have been operating successfully since day one.
Sustainability
Sustainability is a core priority for Mitchell Press. It is part of their DNA. It is also a part of their offering. As a print services provider operating in at a time where the materials and processes you use will have an effect on the environment, they believe they have a responsibility to the industry they play a big part in to be leaders and governors of safe environmental practices. Sustainability. All the house stocks are 10% post-consumer FSC certified, and they use KODAK SONORA Process Free Plates. According to Scott Gray, "it's a message that the clients like, and they need to hear it."
In 2018, they took the initiative to do an audit and publish a sustainability report. When clients ask about sustainability, they have no problem discussing it and providing them with facts. They tell their clients that they should start talking to their clients about sustainability as well. Mitchell Press makes it easy for them to do that since the company has been tracking all their print and FSC paper for years even if their customers didn't realize it. As a result of their sustainability initiatives, Mitchell Press gets invited to request for quotations they wouldn't necessarily be included in if they didn't have a strong sustainability position.
Process free plates
Printers can easily fall into the trap of assuming that all plates are alike, and since plates represent very little direct cost to the job, (unlike paper), they are inconsequential to the overall cost equation. However, at Mitchell Press they have found that a plate can really affect the whole cost model if you don't have the right plate.
When Mitchell Press' plate contract was coming up for renewal they decided to do a "shootout" to find the right plate for the new contract. They compared process free plates from Kodak, Fuji, and Agfa. They found that their incumbent SONORA XP Plate performed better than all the others. After the shootout, Kodak brought in the new SONORA XTRA Plates and they then further outperformed their current SONORA XP plates. So, while Mitchell Press has been using SONORA XP Process Free Plates with great success, they are now going to move to the SONORA XTRA Process Free Plate, bringing additional benefits such as 3 times stronger image contrast, faster imaging speed, with 20% less imaging power required, and improved handling robustness.
Automating processes
Mitchell Press has been running KODAK PRINERGY Workflow and KODAK INSITE Creative Workflow for about nine years, and they have been expanding the base of clients using INSITE. During the pandemic, they leveraged their online proofing and INSITE usage ramped up. To help onboard customers, they created a few teams that worked remotely to help customers calibrate their monitors to ensure that they are looking at color accurate proofs.
Integrating their new NEXFINITY Digital Press with PRINERGY created a "hallelujah moment" in plant operation mangagement for them. It also set the stage for further integration with RBA (Rules Based Automation) and their MIS system, and with the new connectivity they will have another window into their operation. They look forward to connecting more operations and moving much more production information across their plant, to and from their equipment and processes. With the increased connectivity and data availability, they will be able to get operational data back into their MIS and the power apps available through PRINERGY and the Microsoft Azure platform and use this "big data" for analytics to improve business practices.
Mitchell Press' relationship with Kodak provides a win-win. As Gunter said, "where some of our vendor relationships are more transactional, our relationship with Kodak is a partnership."
Kodak, Nexfinity, Sonora, Prinergy, Insite, Nexpress and the Kodak Logo are trade marks of Eastman Kodak Company.