ChromaGraphics: Developing High-Touch Client Relationships with Great Print Projects
For more
Published Fall 2019
ChromaGraphics has built a thriving business over the past 40-years by supporting and accelerating its clients' success with wise investments in people, training, and technology. The result is clients who have grown to depend on ChromaGraphics' exceptional innovation, service, and output quality.

History
Founded in 1975, ChromaGraphics started in Santa Rosa, California printing collateral material for start-up businesses. Over the company's two generations of operation, the business evolved into a custom commercial production printer and has now expanded with digital four-color LED UV printing, litho, letterpress, and bindery services.
The principle of focusing on client success is fundamental to ChromaGraphics' business.
Second-generation owner and president, Eric Janssen, shared ChromaGraphics' business success strategy with the OutputLinks Communications Group team.

Generations
As the son of a printer, Eric Janssen began learning about the business of print at a young age. By working in the company started by his father and business partner, Don Herman, Eric learned the work side of print.
When it was time for higher education, Eric chose California Polytechnic Institute (Cal Poly) as it housed one of the USA's premier graphic arts degree programs. During his college career, Eric participated in every aspect of the program, including Cal Poly's University Graphic Systems.  This student-managed, student-operated commercial printing enterprise provides real-world experiences ranging from producing the University's daily newspaper and printed materials used across the entire campus. After earning his degree, Eric returned to the family business in 1992, armed with new knowledge and experiences in print.
Eric credits the education and business experiences gained at Cal Poly for providing him an excellent grounding in the business of commercial print.
Client Relationships
Eric and the ChromaGraphics team assigns first-priority to the challenging task of managing the optimal balance between production efficiency and high-touch client engagement.
Regarding that priority, Eric shares that "Many printers are trying to achieve 100% automation, with no personal contact. However, we're taking a different approach. ChromaGraphics' clients like to have a hands-on relationship, and we encourage that personal involvement by making sure there is a sustained level of person-to-person contact.
"We embrace the benefits of automation to optimize production workflow, gain speed, and increase output. But we understand that when you go to that next level of complexity in a project, there needs to be clear, personal communication with clients to ensure we are meeting their specific objectives."
An Exceptional Team for Exceptional Clients
The ChromaGraphics business model requires an exceptional team of employees. Team members must understand the importance of creative vision, technical expertise, and personal contact to manage high-efficiency print production with high-touch client engagement.
ChromaGraphics has a staff of 37 professionals, many of whom have been with the company 30-plus years. That high-level of employee longevity points to a culture of employee commitment that flows directly to the client.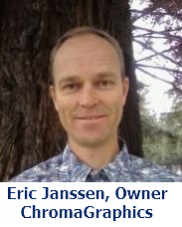 Eric explains, "Our experienced, long-time employees understand that printing isn't just pushing buttons. They focus on each client's goals and desired outcomes while applying their experience to optimize each project component.
"As the company continues to grow and evolve, our committed employees need to be able to handle the necessary changes to help us get to that next level of success. You need people that can manage different operational tasks productively as they move from department to department. To accomplish that, we're in a continuous learning mode and constantly cross-training to maintain high-level efficiency."
Mergers and Growth to Expand Services
ChromaGraphics' traditional commercial focus has been specialty digital, specialty litho, and specialty display work, and wide-format signage. However, the company consistently invests in expanding its services. The company's latest services expansion results from its recent merger with another Santa Rosa printer, AJ Print and Graphics.
The merger expanded service offerings in areas such as short-run publishing, including books, catalogs, and direct mail.
Eric shares that, "The AJ Print and ChromaGraphics merger is our single biggest change point. It has really reinvigorated the combined company to push forward, not only with equipment but also with relationships."

Toner to Inkjet for Expanded Services
ChromaGraphics had used toner-based production digital printers to provide clients with options, like short-run processing and personalization. However, toner technology constrained client options due to print durability and substrate limitations.
A compelling desire to eliminate toner's limitations and provide clients additional options - like variable substrates, larger sheet sizes, and increased print durability - drove ChromaGraphics' decision to invest in the AccurioJet KM-1 LED-UV Inkjet Press.
The combination of the AccurioJet KM-1 LED-UV inkjet press acquisition and the AJ Print merger provides ChromaGraphics the personnel and technology resources to expand services further while maintaining their high-touch client commitment. Moreover, ChromaGraphics now has the capacity to deliver output services to other printers who are constrained by their technology.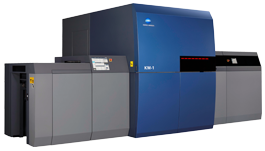 AccurioJet KM-1 LED-UV Inkjet Press
The AccurioJet KM-1 LED-UV inkjet press brings new opportunities to ChromaGraphics' growing family of clients based on the ability to deliver high-quality output at a significantly lower cost more quickly.
Eric gives an example of a substantial new client that would not have been possible without the AccurioJet KM-1 LED-UV inkjet press capability. "We had a prospective client that needed 300 23x29" pieces printed on 24-point board. If I had to create 300 24-point boards on my Komori, I would have to charge them so much money that it wouldn't be feasible. However, we were able to create those 300 boards with the AccurioJet KM-1 LED-UV inkjet press at an affordable price point. The result is a happy new client that knows we have the technical capabilities and customer-first attitude to support their long-term business needs."

Meeting Specific Industry Needs
ChromaGraphics is in California's Napa Valley region, so the wine industry is one of the company's key service markets. That industry has many conglomerates that own and manage the brands of as many as thirty small and medium-sized wineries. However, each winery must maintain a unique brand which extends to their printed materials. From direct mail to packaging, all visual branding must be carefully crafted and produced to reflect that winery's unique product essence.
This wide range of brand objectives presents the ChromaGraphics team an excellent opportunity to support the needs of the various brands with superior client experiences and print technology.
Eric states that "Our flexibility and production capabilities allow us, as a single-source supplier, to serve the unique needs of all those unique brands. We provide the print each brand wants in the exact way they want. Despite all their diverse requirements, we can easily delight those clients because of our investments in the best people and technology."
"Having the best people and technology is a big deal for ChromaGraphics and our clients – it keeps print alive."

Inkjet's Operational Acceleration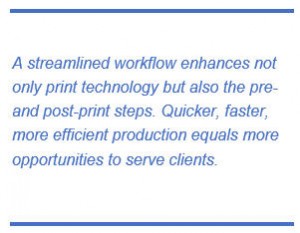 The AccurioJet KM-1 LED-UV inkjet press has dramatically enhanced ChromaGraphics production operation with increased speed and flexibility of print production.
Eric shares, "We are much faster and much leaner. Significant efficiency gains are being realized by transferring work that had been produced on toner and offset printers to the AccurioJet KM-1 LED-UV inkjet press. The steps required to pre-treat material before print have been eliminated, saving time and cost.
"When we were putting work on the litho press, we knew that we had to let the printed product dry for two days before it could be sent to the finishing station. With the AccurioJet KM-1 LED-UV inkjet press fast-drying UV ink, registration stability, speed, and reliability, printed product coming off the press is immediately ready for the finishing station. Moving quickly from print to finishing is helping in ways we never considered when we were evaluating inkjet."
From print to bindery to mail, everything happens quickly and efficiently.

Partnering Beyond the Printer
Before investing in production inkjet, Eric Janssen initiated a thorough, detailed investigation and discussion with potential vendors/partners.
 "It's important to understand what you're getting into and how a printer needs to examine the overall impact of installing this level of technology. The benefits extend beyond the printer, upstream and downstream. Capacity is increased, and production time is freed up by good workflow and fewer pre and post-print steps, such as precoating and drying time. If printers think, 'Oh, it's a good printer, I'm going to get one,' without serious investment of time and thought it becomes just another commodity, and the model reverts to a click charge competition."
The Konica Minolta Relationship
Jansen's discussions with the Konica Minolta AccurioJet team helped him better understand the depth of complexity, as well as the dramatic opportunities the AccurioJet KM-1 LED-UV inkjet press would bring to ChromaGraphics.
When asked about his impressions of the Konica Minolta team, Eric was very candid in his comments. "One nice thing I like about Konica Minolta is that my points of contact had a great deal of technical knowledge and were very aware of the realities printers face. Konica Minolta put the necessary skill sets in place to be as assistive as possible to our company's success with the press. Konica Minolta is good at helping companies that make the jump to inkjet succeed".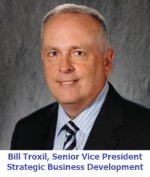 Bill Troxil, Senior Vice President, Strategic Business Development, Konica Minolta, shared his views about the relationship. "Konica Minolta is proud to partner with ChromaGraphics, a leader in the printing industry. Their decision to invest in the AccurioJet KM-1 LED-UV inkjet press demonstrates that they are confident that LED UV ink technology is the way of the future and will serve their customers' needs for the highest print quality on a wider array of substrates more cost effectively."
"What I appreciated about Konica was that they spoke with me about making money, supporting our clients and the success of ChromaGraphics." Eric Janssen.

Forward to the Future
With its recent investment in the AccurioJet KM-1 LED-UV inkjet press, for the best in LED UV inkjet technology, and its acquisition of AJ Print, for increased production capacity, ChromaGraphics is well-positioned to expand its valuable services to clients far into the future.