Kodak Recognizes Toppan Forms in Record-Breaking Achievement
For more
KODAK PROSPER Press Inkjet Head Exceeds 34,000 Hours of Production
Toppan Forms, an information solutions company and user of KODAK PROSPER Presses, achieved a major milestone when they returned a jetting module built with KODAK Stream Inkjet Technology for refurbishment after more than 34,000 hours of operation. This equates to printing non-stop for almost four years and printing enough A4 pages to reach the moon three times over. The KODAK inkjet head was installed in one of Toppan Forms' KODAK PROSPER Presses in 2014.
Will Mansfield, Director of Worldwide Product Marketing and Category Management for Kodak's Enterprise Inkjet Systems, said, "Toppan Forms' achievement speaks to their operational excellence as a print service provider of digitally produced print communication. It's also a testament to the reliability of PROSPER Presses in the most demanding of print environments." Toppan Forms has tripled their jetting module life over the past five years and their performance exceeds that of all other press installations worldwide. Since installing their first PROSPER press, Toppan Forms have expanded their print service to include color direct mail, transactional and personalized educational applications.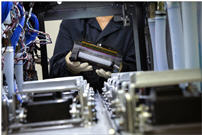 KODAK Stream Inkjet Technology is unique from other digital technologies like drop-on-demand (DOD). First, the ink is continuously flowing through the jetting modules and only the drops that are needed for printing fall to the paper while the rest of the drops are deflected and recirculated. This process enables faster speeds that may complement or replace analog printing methods such as offset, flexo and rotogravure. Second, Stream Inkjet Technology uses environmentally-friendly water-based pigment inks that cost less and provide a wider color gamut than DOD inks. Third, the jetting modules are returned to Kodak where a majority of the jetting module components are reused in the refurbishment process. Not only does this create less waste, it also enables a sustainable cost-effective solution that is good for the planet.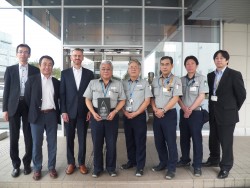 Mr. Shoichi Horie, Manager of Production Planning, Toppan Forms, said, "I believe that this record-breaking achievement could not have happened without the cooperative framework that exists between Kodak and Toppan Forms. We are delighted with the results that were displayed thanks to the ongoing partnership between our companies and the high level of technical expertise that we have. I am looking forward to this leading to even greater achievements being made in the future."
About Toppan Forms Co., LTD.
TOPPAN FORMS boasts strengths in the information domain centered on information and has been supporting activities of corporations by contributing to the improvement of operation efficiency. By using our strengths accumulated in the information domain, we have been making efforts to create new value as a Digital Hybrid Company capable of offering products and services in both analog and digital aspects.
URL: https://www.toppan-f.co.jp/english/
Office Location: 
1-7-3 Higashi Shimbashi, Minato-ku, Tokyo
Founded: 
May 1955
Representative: 
Koichi Sakata, President
About Eastman Kodak Company
Kodak is a technology company focused on imaging. We provide – directly and through partnerships with other innovative companies – hardware, software, consumables and services to customers in graphic arts, commercial print, publishing, packaging, entertainment and commercial films, and consumer products markets. With our world-class R&D capabilities, innovative solutions portfolio and highly trusted brand, Kodak is helping customers around the globe to sustainably grow their own businesses and enjoy their lives. For additional information on Kodak, visit us at kodak.com, follow us on Twitter @KodakPrint, or like us on Facebook at Kodak.