New Orleans French Quarter Parade Celebrates Prinergy's 20 Years of Workflow Automation
For more
Kodak's PRINERGY Workflow Software celebrates 20 years of being a leading prepress automation solution serving the commercial and packaging print industries

An American Printer Commentary
Andy & Julie Plata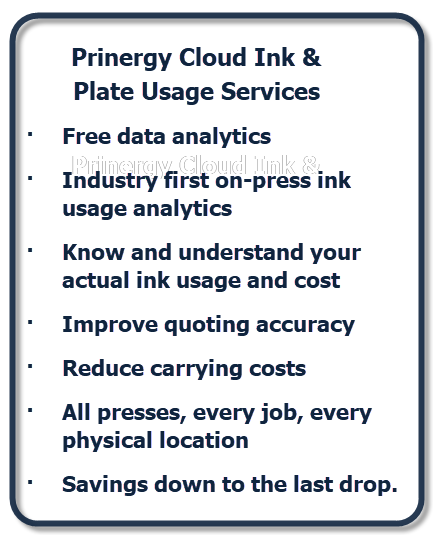 Kodak celebrated Prinergy's 20th Anniversary during the Graphic Users' Association (GUA) conference in New Orleans with a New Orleans style parade down Bourbon street and a celebratory dinner reception emceed by Todd Bigger, President, Kodak Software Division & Vice President.
Jim Continenza, Kodak's Executive Chairman, shared the company's renewed commitment to print with the 140+ attendees at the 2019 GUA conference. Jim's remarks about Kodak's absolute recommitment to print and to their customers impressed us and others we spoke with during the event. From a financial perspective, Jim shared that Kodak has aggressively been paying down their debt. That accomplishment allows money formerly used for interest payments to be invested in R&D for continuous print technology enhancements.
Our Tomorrow Starts Today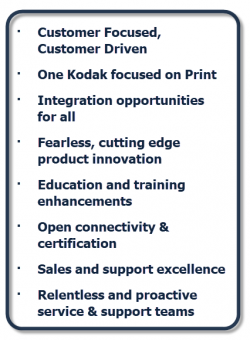 Todd Bigger discussed upgrades in Kodak's procedures, focus, education, services, and support to improve the customer experience. A crucial area flagged for improvement was operational silos that frustrated customers seeking quick solutions. The silo problem is being addressed by merging departments and empowering staff to act as first-line solution enablers.
Todd's candor regarding areas where Kodak had previously been lacking impressed us and seemed to be well received by the attendees.
Then we moved on to Prinergy topics.
Prinergy Cloud
It was announced that the Prinergy prepress automation solution will now be available to commercial and packaging printer clients via a new cloud platform providing managed services for workflow-on-demand plus a host of high-value applications.
Prinergy is moving to a cloud base platform giving their customers a choice in connectivity. Prinergy VME, Virtual Machine Engagement.
Free Trial - Prinergy Virtual Machine
GUA attendees received an exclusive opportunity for a 6-month free trial of the Prinergy cloud service.  The Prinergy Cloud provides connectivity services, disaster recovery, enhanced color services, and RBA personal integration on a news subscription basis.
Kodak selected the highly regarded Microsoft Azure platform as the heart of their Prinergy Managed Services. Alex Lowe, Azure's Technical Specialist, conducted a session about Microsoft's advanced security expertise and the Azure platform's scalability to easily handle the seasonal peaks with which printers have to deal.
Lagging WorkFlow Automation
Pat McGrew, Keypoint Intelligence's Senior Director Production Software Services, shared that print was the only major manufacturing industry that has not fully embraced automation. Her presentation noted that most printers are not even taking full advantage of the workflow automation tools they already own.
"It seems printers use their workflow software much like we use our microwave at home. We bought it for all its advanced features but all we actually use if for is to warm our coffee and leftovers."
Time and Talent
So, what keeps printers from taking advantage of the many benefits automation brings other manufacturing industries?
We heard from several printers that their biggest challenge is finding trained employees. Without good programmers, taking full advantage of the rule-based automation Prinergy offers is difficult.
Kodak will be providing education and customer hotlines to help customers improve their technical talent to maximize ROI on their Prinergy software.
Kodak: A New Start-Up with Long-Term Wisdom
We had an opportunity to meet with Todd Bigger, President, Kodak Software Division & Vice President, and John O'Grady, President, Print Systems Division, Senior Vice President Eastman Kodak Company, to gain a deeper understanding of Kodak's commitment to print and packaging.  
Todd and John were refreshingly candid about challenges they were facing and the actions they were taking to solve problems and enhance the customer experience.
It was interesting to hear how they saw the additional R&D funding changing the way business is done to provide new technology solutions for their customers.
Kodak's new Sonora plates, inkjet printer technology, and Prinergy's cloud platform will launch the company as a nimble, deep-rooted enterprise to better serve its customers with profit-producing technology.
In Closing
We left the GUA/Prinergy event feeling like we had just met a new start-up company, named Kodak, that was eager to make its mark in the world.
Thank you for reading. We love feedback so feel free to use the comments section below or leave a comment on our LinkedIn page.                                        
Promoting print tech for the digital age,
Andy & Julie Plata
Co-CEOs
American Printer & The OutputLinks Communications Group