Old Trail Printing Embraces Its 90-Year History with the AccurioJet KM-1 Inkjet Press
For more
Old Trail Printing has more than 90 years of delivering top quality print from its home in Columbus, Ohio. The OutputLinks Communications Group spoke with Dave and Mike Held, third-generation leaders of the family-owned and operated commercial printer.
Blending Legacy Culture with New Technology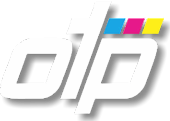 Dave and Mike Held discuss Old Trail Printing's offset technology culture and the firm's ability to determine 'the appropriate time' for installation of the best in digital, inkjet technology.
Ninety Year History     
In 1928, Fred Whitman opened Old Trail Printing, a letterpress shop, in Columbus, Ohio. The company was located on the old national trail early settlers used to travel west, all the way to San Francisco. Hence, the company named for the road that helped expand the country is now expanding the value of print for its customers.
Old Trail Printing joins a growing list of multi-generational printers who have embraced the future with the Konica Minolta AccurioJet KM-1. Read their stories in the AccurioJet KM-1 Business Success eBook. %form%
In 1964, Mr. Whitman sold the company to Bernie and Mary Held who had a vision for excellence in service and product anchored by their values and character and those of their employees. Bernie passed away in 1987, yet Old Trail's values and character-based commitment to excellence continues under the leadership of Mary and her sons, Dave and Mike. Growing up in a print family, Mike and Dave have a combined 90 plus years' experience in the business. And with Dave's son supervising the offset press department the next generation is at work. Although Mary, at age 90, recently stepped away from daily operations, she remains a guiding light for the family business. Ownership and experience are what differentiate Old Trail from the competition.
Family Culture
Dave and Mike cite their parents' influence in maintaining an environment where employees and family members work side by side towards the common goal of providing excellence to customers.
The family culture is exemplified by Dave's comment that, "With 75 employees, we feel responsibility for 400 people, which includes their families and dependents." The Old Trail compensation system includes gain-sharing and 85% paid healthcare. Employee birthdays are recognized, and employment milestones are creatively rewarded. Dave shares, "Mom has a tradition of putting a lottery ticket in each employee's yearly employment anniversary card."
The culture is recognized by clients who have come to know and trust all the Old Trail people involved in the creation of excellence of their printed materials.
 "Mom has stepped back from the day to day of the business, but her spirit and principles still show up every day. She is no longer signing my paycheck, but she is still a big part of the business." Dave Held
Evolving Technology, Evolving Business
Dave breaks down the print technology evolution that Old Trail Printing went through over its long history into three segments:
     1. Letterpress;
     2. Offset;
     3. Digital.
Old Trail's equipment upgrade approach is not to be first, but rather to wait and watch as the new technology settles in and proves its value. This approach has allowed the company to better serve its clients by acquiring new print technology after the learning curve and growing pains had been absorbed by early adopters. 
Dave shares, "When it came to the technology changes with direct to plate, wide format and inkjet systems, we did not just jump in. We took time with each technology to understand if and how it would serve our clients' needs. At the appropriate time, we went into direct to plate, wide format and inkjet technologies on our terms. This approach allowed us to provide our customers with great quality at the lowest possible cost."
Letterpress technology faded in the 1970's, leading to a focused push into offset. Wise, evolution-focused investments through the late 1970's and 1980's guaranteed a reliable offset platform supporting the company's commitment to excellence. Old Trail's thriving offset business is reflected in Dave's comment, "We run our 40_inch sheet press 24 hours a day, five days a week."
Where Offset Meets Digital
Despite its decades of dependence on offset technology, the company's drive to better serve its customers led them to begin investigating digital inkjet printers for increased flexibility and capability in speed, format size, and variable substrates. 
Dave and Mike and their team reviewed options from various vendors before narrowing their focus on the Fujifilm J Press. At the time, they were not aware of Konica Minolta's inkjet offerings. However, an employee attending a local print seminar brought Dave information about Konica Minolta's technology which led Dave to the AccurioJet KM-1 Inkjet Press.
The team quickly realized the AccurioJet KM-1's advantages versus their other inkjet consideration in relation to speed, sheet size, substrate flexibility, automatic duplexing/perfecting, and critical color management. A major plus was that the AccurioJet KM-1 looked like and had the sturdiness of an offset press.
"The future for us is where offset meets digital. That is what is going to catapult us into the future. That mentality of merging our offset legacy with inkjet technology to better serve customers sets us apart from our competition, and our clients appreciate that."
"We have been in this business for a long time and have seen equipment come and go. Many of the earlier digital machines seemed to be cheaply made which meant the service technicians were here so often that they became our operator's best friends."
The AccurioJet KM-1 Inkjet Press Contrast
"When you look at the upper half of the AccurioJet KM-1, there's all the Konica Minolta breakthrough technology, and it is well built. The bottom base of the AccurioJet KM-1 is offset technology. The reliability, the strength, the weight, the steel, the gears, the driving mechanism, it is what a production guy like myself wants."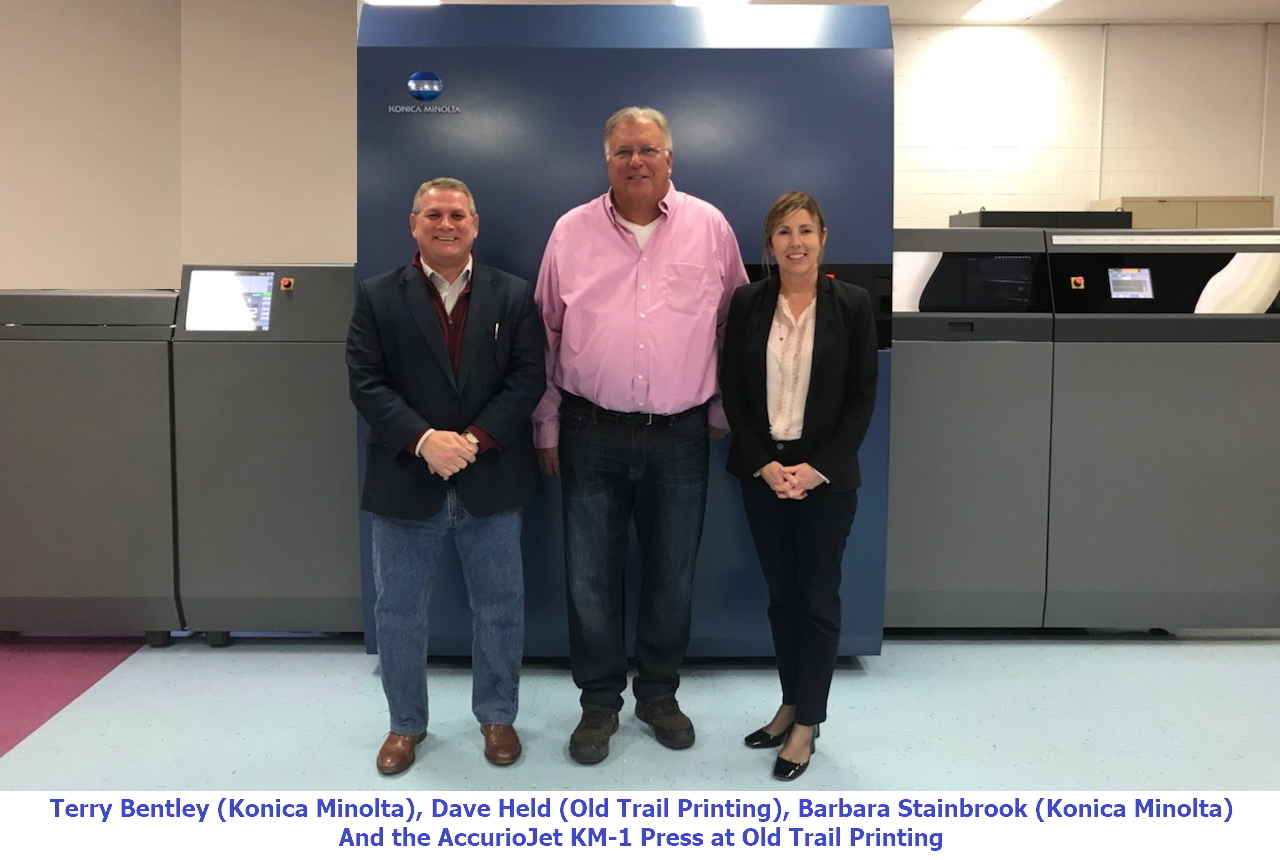 The Konica Minolta Relationship
Old Trail Printing takes its relationship with partners and vendors seriously. Mike enthusiastically endorses the Konica Minolta team for its unwavering assistance including helping Old Trail achieve the extremely important G7 certification.
"I cannot say enough about the Konica Minolta organization. They have been just fantastic throughout, providing the information and support we needed, all with fantastic communication. They helped make this transition go smoothly. I want to thank everyone from the management and business development team to the AccurioJet technicians and the trainers. They are making sure that our guys are trained, certified, and have the knowledge they need to be successful," Dave says.
"We welcome our brand-new partner, Old Trail Printing, to our family of AccurioJet KM-1 installs in North America. The opportunity to partner with one of the Midwest's most established multigenerational commercial printers is an example of how Konica Minolta and leaders like Old Trail recognize the shift in technology from toner to inkjet technology to deliver to their customers a competitive advantage and a wider array of solutions to grow and support the markets they serve," says Bill Troxil, Senior Vice President, Strategic Business Development, Konica Minolta Business Solutions USA, Inc.
Offset veterans appreciate the quality and familiarity of the AccurioJet KM-1's inkjet press technology. They share their experiences in the AccurioJet KM-1 Business Success eBook. %form%