Leading the Inkjet Revolution – Konica Minolta and the AccurioJet KM-1
For more
A New Business
Konica Minolta has a long and successful legacy in the world of printing and copying, and now it has taken that experience to the next level with the high-end AccurioJet KM-1 UV Inkjet Press aimed squarely at the world of commercial print and major in-plant printers – a space that has traditionally been populated with toner-based digital production printers and offset presses.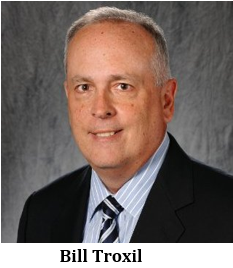 Konica Minolta is leveraging its core technologies in ink, inkjet head, and sensing, as well as its world-class service and engineering organization. This new business, staffed with dedicated expert resources, delivers a complete solution to customers requiring greater productivity with a larger sheet, a wider variety of substrates for growth opportunities, and the highest quality and reliability.
This is more than a new product launch – it is a completely new line of strategic growth opportunity for Konica Minolta and its customers as the world of print shifts to inkjet.
Konica Minolta has named Bill Troxil to take the senior leadership role in implementing this strategy. This new business has been positioned by senior management as a top priority. Backed by a significant corporate investment and armed with revolutionary printing technology, Bill and his team are ready to help commercial printers, marketing firms, and large in-plants expand their opportunities with the flagship AccurioJet KM-1.
The OutputLinks Communications Group spent time with Bill Troxil, Sr. Vice President, Strategic Business Development at Konica Minolta Business Solutions U.S.A., Inc., to get his insights on the AccurioJet family and learn why he is so confident that Konica Minolta has developed the best solution for the production inkjet market.   
Bill Troxil is excited and confident about implementing Konica Minolta's entry into the world of high-end inkjet printing with the AccurioJet KM-1 UV Inkjet Press.
Why?
Bill now shares with us the "why" of his KM-1 excitement.
"Inkjet is a relatively new technology at the high end of the market. Just about everybody in it is new. But, here's why we have a real advantage.
"We've been involved in the copying and printing industry for a long time. We've been making ink and inkjet heads for 20 plus years. We have the largest market share of Piezo inkjet heads in the world, with over 40% of the global market. You'll find our inkjet heads in other company's products. They're in the industrial space and in the textile industry. We know how to develop technology.
"We've taken our core technologies and moved into high volume, high speed industrial print. It's a logical extension of what we've been doing, taken to a different level.
"We recognized that customers are looking for the kind of quality and consistency they get from traditional presses and toner-based printing devices but at a better total operating cost. We knew that we could capture the volumes that traditionally came off those systems by designing and building an inkjet press using our core technology and decades of experience in developing print delivery systems. Integrating our UV Inkjet technology with a great chassis and input section would give us something that the market wanted. A high-quality image making system that was reliable, easy to install, run and service, and that would produce all of this at a compelling cost."
The AccurioJet KM-1 is that system.
"The AccurioJet KM-1 is the revolutionary cost-effective and higher-quality alternative to traditional toner-based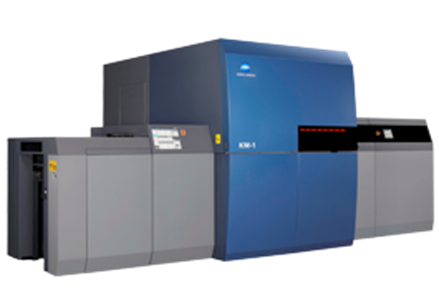 engines and offset presses."
Seeing is believing.
Ask Konica Minolta to print YOUR test file on the AccurioJet KM-1. %FORM%
Reliability
Ask what makes the system so reliable and Bill replies, "Konica Minolta has taken two long term and reliable technologies - a proven chassis and a reliable paper delivery system – and matched them with our UV Inkjet technology to create the AccurioJet KM-1."
More than Paper, More "UP" on the Sheet
Bill states that another strategic advantage is that "Now customers can have a system that does a lot of things well. This opens new growth & higher margin opportunities for them.
"The AccurioJet KM-1 fills a wide variety of needs for printers. Laying down high quality /storage/app/media/Featured Articles/ on 23"x29" sheets means more /storage/app/media/Featured Articles/ per sheet.   The ability to feed different thickness materials opens up the world of multiple substrates, from paper to canvas to light packaging. The non-impact UV ink delivery system enables faster, crisper production.   Smooth and reliable material movement means consistent output and dependable production numbers. Unique to the AccurioJet KM-1 is the ability to print 6 full-bleed letter size sheets on one page – that's 18,000 letter-size color pages per hour.
"The AccurioJet KM-1 is already having a positive impact for our initial customers. They are bringing in more jobs because they can process on more substrates. The volumes are increasing for products like books and manuals, personalized marketing and promo pieces, direct mail, and even light packaging. The output quality is great - in tests that we've run with customers and industry analysts, we rate number 1 for quality and reliability of the print.
"It's flexible, so customers gain the productivity and durability of a sheet fed press with the digital flexibility to produce variable output and short run print jobs."
"We've taken two long term and reliable technologies - a proven chassis and a reliable paper delivery system – and matched them with our UV Inkjet delivery system, to create the AccurioJet KM-1."
What's Next
Bill shares that "The next product to follow in our AccurioJet portfolio is the KM-C announced as a prototype at drupa.   This future digital UV inkjet press leverages the Konica Minolta inkjet head and ink technology from the AccurioJet KM-1.   It will deliver high value variable graphic arts quality printing with a B1+ sheet size up to 48-point heavy board and folding carton. This will further establish Konica Minolta as a world-wide manufacturer in the inkjet printing and packaging market."
Focused and Dedicated


"Building great systems is only part of the equation. We have to be able to support our customers at every step of the process. We've built a dedicated service and support organization that worries about one thing – the AccurioJet products. This team has been built with the best of the best. We have experts who support our sales organization, working with them and our customers to understand all the requirements. We look at the applications, the workflow, the footprint and the support requirements and make sure the AccurioJet is the right fit. Not every potential customer is a fit – and we need to be comfortable that a customer understands the full impact of acquiring the system. We look at total costs – which include the physical system, the installation, and maintenance, operational costs including labor, parts, and supplies. Each of these factors needs to be understood; nobody wants to invest in a system that doesn't help them grow their profitability.
"We have been very selective in building our technical support and service team. Konica Minolta has a global support organization and a service team that does great work for our traditional customers. We want them to keep doing that, so we won't be sending our copier and office fleet techs out to support the AccurioJet installs. We've taken the best of the best and dedicated them to our business. We've trained them and tested them. They are ready. We've placed them where they can best service our customers.
"Konica Minolta also has great support infrastructure round the world, including call centers and supply chain/parts distribution centers. We are taking advantage of those capabilities and have dedicated team members attached to those groups."
Confidence
Bill's confidence in Konica Minolta's move into this new business is clear and contagious. He has built a team of experts and populated every spot in his organization with the best talent from across Konica Minolta's global organization. Every process and touch point has been designed to provide the best possible customer experience. The technology has been designed to take best advantage of each component, and those components are built on proven, leading edge innovation. This adds up to a business and a product that customers around the world are embracing.
"We're confident. We're established. We're connected to the community."
Check out the quality.
To request YOUR print file printed on the AccurioJet KM-1 UV Inkjet Press, Click the button below!
%FORM1%
Next
We appreciate Bill sharing his and his team's passion on the AccurioJet platform. Our AccurioJet review will continue over the coming weeks when we'll hear directly from customers who have put the AccurioJet KM-1 to work in their production facilities. They will share their thoughts on the system and the results they have achieved with this high-end industrial inkjet system.
We'll also hear from more Konica Minolta thought leaders, and we'll get a look at what future products the AccurioJet team has in the pipeline.