Letter Concepts: Enhancing Clients' Fundraising Success with Technology and Team Focused Excellence
For more
Letter Concepts was co-founded in 1989 by brothers John & Tom Wilson. Over the past three decades, the company has expanded from a small family business to a fast growth technology operation with over sixty employees in their recently expanded facility in Berlin CT. The OutputLinks Communications Group had the pleasure of speaking with Letter Concepts' leadership team to see how they plan to leverage their past success and recent print technology investments for nationwide expansion.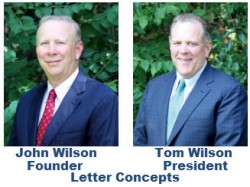 Succeeding by Helping Clients Succeed
Connecticut-based Letter Concepts' rapid growth is the result of helping their clients succeed in a highly specialized market. That market has been fundraising campaigns for Catholic dioceses and parishes in the United States. The company's recent acquisition of the Konica Minolta AccurioJet KM-1 UV Inkjet Press strategically positions them to expand their services for non-profit organizations across the United States.
Letter Concepts has served 24% of the Catholic Church's dioceses nationwide.
 
         
                
The Commitment of Excellence
Letter Concepts has established a culture that calls its team members to a Commitment of Excellence. That important commitment drives the company's consistent investments in their people and the best in print, mail, software and marketing technology. Team members focus on providing excellent client experiences as they build, deliver, track and process highly personalized, cross-media relationship and fundraising campaigns for their clients.
Market
Highly integrated, multi-channel messaging campaigns molded to client-specific objectives drive the service excellence Letter Concepts provides its clients.



       
Letter Concepts staff of experienced designers, programmers, and production operations experts turn client requirements into coordinated fundraising packages. Those packages are customized for each campaign to include letters, envelopes, postcards, memorial cards, holiday and greeting cards all integrated with social media postings and postal tracking.
Integrating and managing diverse service components is most effectively accomplished when production is all 'under one roof.' That realization was one of the primary factors that drove the company's AccurioJet KM-1 Inkjet Press investment. The wide range of the KM-1 Press capabilities allowed Letter Concepts to bring print work, that had previously been outsourced, in-house for better quality and turnaround management.
Letter Concepts can now provide full data management, graphic design, print and mail production as well as gift processing, remittance and reconciliation of the campaign's receipts 'under one roof.'
The company's team approach ensures that each client is cared for by an Account Manager who rigorously coordinates all the activities for each campaign - from client input all the way through the production, distribution and remit processes. Analytics are generated to help clients track each campaign's effectiveness and to guide planning for the next round of outreach messaging.
People
The Letter Concepts leadership team invests in developing employees' skills and ensuring the best people are in the correct positions to meet the company's commitment to excellence. Employees have the opportunity of moving through different job functions as they enhance their skills to deliver increasing value to clients.
As Tom Wilson, the company's President, notes, "We can tell pretty quickly how an employee is performing and progressing. We give them the opportunity to grow into a position."
Client Focused Technology
As a full-service provider, Letter Concepts has the technology to design, produce and deliver high-quality, multi-channel fundraising campaigns. Production capabilities include offset and digital print, intelligent mail processing on multiple inserter platforms, and high-integrity barcode matching to ensure that the right information goes to the right recipient at the right time.
In addition to physical mail, a variety of social media channels like Facebook and Google are used to energize the success of each campaign. To assure success, document and data integrity must be consistent across both the physical and social media channels. Data is collected from each campaign for effectiveness analysis and Service Agreement compliance.
Letter Concepts also provides remittance processing of the contributions that result from the campaign. This capability includes check scanning, credit card payment processing, and personal account reconciliation and reporting.
Expanding the Client Service Portfolio
Letter Concepts is now adding Direct Mail 2.0 into its client offerings to provide its clients the combined power of print and digital media marketing. Direct Mail 2.0 integrates the power of Google with direct mail as a natural extension of Letter Concepts traditional client-based multi-channel marketing. Clients will now be able to access enhanced mail tracking, online follow-up ads, and call tracking for their campaigns
Merging the capabilities of print, social media, web, mobile, email targeting and strategically triggered online advertisements enables clients to more effectively reach their target audiences and drive even greater donor interactions.
TJ Wilson, the company's Program Director, sees this expansion into the online digital channel as an excellent way for Letter Concepts to continue expanding their client base. This coordinated, multi-channel reach will bring even more value to the company's traditional client base while attracting new clients seeking the proven fundraising results Letter Concepts delivers.
Letter Concepts endeavors to expand its services to colleges, universities and membership-driven organizations that have a desire to connect with members and potential members at their point(s) of preference – the mailbox, the web, inside their web browsers and their web apps.
Tom Wilson shares that "Our clients have been able to significantly reduce their internal workflow and office costs by partnering with Letter Concepts."
Investing in UV Inkjet for Their Clients
As Letter Concepts reviewed their commitment to excellence, a need to provide clients with more options for creative print projects was realized. Also important was the need to gain more control over quality and efficiency in the production process by producing as much as possible in house.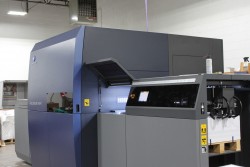 Those two realizations drove company management to begin investigating the best options in digital inkjet print technology. Their search determined that Konica Minolta's AccurioJet KM-1 UV Inkjet Press was the very best option for enhancing its services to clients.
The AccurioJet KM-1 Press speed allowed for expanded productivity. The AccurioJet KM-1 Press extra-large 23x29" sheet size and media type flexibility expanded the types of printed products the company could produce for its customers. The AccurioJet KM-1 press' brilliant color coverage and UV ink made for more impactful and durable mail pieces
Time to market for client campaigns was shortened considerably by two AccurioJet capabilities:
An innovative UV ink technology that produces mail-ready output with no additional finishing steps required to protect the print quality during the mail handling processes;
The ability to more efficiently print short-run jobs that were previously produced on offset presses and traditional toner-based devices.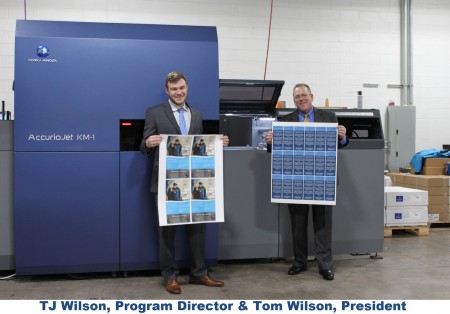 A True Partnership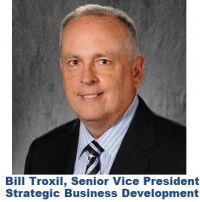 The Letter Concepts sales and support team also benefit from the Konica Minolta AccurioJet Business Development team that assists them in applying the benefits and capabilities of production inkjet to help their clients design and deliver a broader range of visually appealing offerings for more effective fundraising.
Bill Troxil, SVP Strategic Business Development, Konica Minolta Business Solutions USA commented, "Letter Concepts has been a long-term partner with Konica Minolta over the last 15 years.  We have seen them grow and prosper over the years, and now with our new KM-1 inkjet press partnership, we have already witnessed how their existing and new customers have embraced this new technology.  Letter Concept's leadership team has been a great partner and fantastic group of people to work with over the years. We look forward to supporting their growth and success in the future."
The AccurioJet KM-1 UV Inkjet Press provides Letter Concepts a technology platform for long-term growth resulting from high-value client services. And, the associated business support from the Konica Minolta Business Services is providing Letter Concepts with business-building assistance through a consistent expansion of client-focused solutions.
The Konica Minolta Business Services team works closely with Letter Concepts in optimizing the offset press jobs converted to the KM-1 to gain the highest possible quality, production speed, efficiency and cost benefits from the new inkjet technology.
Building for Tomorrow
Understanding the current and future needs of clients to deliver excellence to its clients has made Letter Concepts the trusted partner for churches and non-profits across the US. Through their strategic investments in exceptional technology, the portfolio of fundraising solutions Letter Concepts can offer continues to grow to bring new opportunities for clients to exceed their goals.