Memjet Hires John Ortiz, to Lead Development of Ink and Material
For more

SAN DIEGO—Oct. 31, 2019—Memjet announces that John Ortiz has joined the company as vice president of inks and materials. In this role, Ortiz will guide the strategy, development, and manufacturing of inks used in the company's VersaPass, DuraLink, and DuraFlex technologies. Ortiz will also lead the development of inks and primers used in Memjet's future technologies.
Prior to joining Memjet, Ortiz served in leadership roles at HP for over twenty years. As director of product stewardship, he led the global product stewardship function for HP's personal systems, printing, and 3D Printing businesses. His previous leadership roles at HP focused on sustainability, environmental operations, research and development, ink development, and manufacturing.
Ortiz also held a management role at Microsoft and served as a lieutenant in the United States Navy.
"Ink formulation is critical to the growth of digital printing and its expansion into new markets," says Len Lauer, chief executive officer at Memjet. "John's leadership, combined with his extensive background and industry knowledge, ensures Memjet's advancements in the area of inks will service the needs of this growing market today and well into the future."
The Value of Digital Printing Inks
Unlike analog printing, in which printers can use almost any ink, Memjet's precisely engineered thermal inkjet printing process requires a specially formulated ink chemistry. This ink chemistry is finely tuned to optimize performance throughout the inkjet process; in Memjet's writing systems, within the printhead, and on the printed media. Together, these optimizations complement the OEM's system development and result in the level of quality users have come to expect from Memjet.
In Memjet's printing technologies, ink is heated to a temperature of 310 degrees C to create ink bubbles that then eject ink droplets through thousands of very precise nozzles with a diameter smaller than the size of a human hair. As the ink bursts through the nozzle, it produces an extremely precise dot placement of ink at 1600 x 1600 dpi on media that is moving at speeds of up to 200 m/minute (160 in/second).
"The precision of the inkjet printing process means the printhead is highly intolerant to any contaminants," says Ortiz. "Developing inks that will support this printing process requires a team with a special skill set and a focus on research and development. With over 300 years of collective experience, Memjet's R&D team has the proficiency to formulate inks for today's printing demands and anticipate what will be needed in future ink formulations."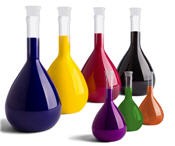 The Role of Memjet Ink 
Under the leadership of Ortiz, Memjet's Inks and Materials team will dedicate its efforts to ensuring the quality of Memjet inks while developing new ink and primer formulations that bring value to the end-user. 
"Since the introduction of digital inkjet printing, the cost of ink has been a point of discussion in the marketplace," says Ortiz. "What these discussions often leave out is the time, experience, and effort spent perfecting ink formulations that assure the entire inkjet system works the way it was intended to. More importantly, these discussions miss the value that digital printing brings to the printing industry and society as a whole."
Memjet is the only vendor to offer an aqueous-only line of inks. These aqueous inks lock in the quality of the printhead and are safer for the environment, users, and the consumer. Moreover, pairing these aqueous inks with new primers currently in development expands the range of substrates users can print on, opening up new print markets for water-based inks.
Ink formulation ensures the printhead—and the printer it powers—can produce consistent results and deliver the level of quality and durability needed to apply ink to the media successfully. Ink formulation is a crucial element that supports Memjet's trademark 1600 x 1600 dpi at higher printing speeds.
Memjet is also making the transition to pigment-based inks that are light- and water fast and bring a new level of durability that can expand further print markets.
The chemistry of Memjet's ink formulation also ensures that the printhead performs as it was designed to—without clogging or damage. This chemistry extends the life of printhead, and users get more uptime with their presses and can realize the lower total cost of ownership made possible by inkjet printing.
"Digital printing continues to grow in relevance and importance. Memjet inks – and the primers we have in development – are enabling more printers to experience the value of digital print by opening up more substrates, markets, and applications while reducing waste and exposure to toxic materials," concludes Ortiz. "My job, and the work of my team, will be to ensure that Memjet inks will continue to support the needs of users across all markets and opportunities. " 
About Memjet           
We approach the world of print from our partners' perspectives: the challenges they face, the barriers they must overcome, and the contributions they make to the markets they serve. By thoughtfully combining innovation and imagination, Memjet produces exceptional printing technologies that enable OEMs to explore new opportunities, grow their businesses, and go to market faster.           
Most printhead manufacturers provide you with the printhead and leave sub-system development to the OEM partner. Memjet takes a different approach. We design and develop modular printing technologies that combine printheads, inks, data paths, and modules. Providing this complete sub-system creates peak printhead performance and enables OEM partners to easily integrate Memjet technology into their custom-built printing solutions, and swiftly deliver on their business plans.
Memjet maintains its corporate office in San Diego and has offices in Dublin, Sydney, Taipei, Singapore and Boise, Idaho. The company is privately held. For more information, please visit www.memjet.com . Follow Memjet on LinkedIn and Twitter @memjet.