DuraLink: Providing Evolutionary Power to Drive Inkjet Migration
For more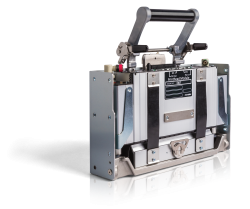 The evolution of digital inkjet technology has expanded print's ability to produce high-quality, individualized, and personalized output on surfaces ranging from plain paper to complex substrates like packaging, labels, plastics, electronics, wallpapers, fabrics, and building materials.
The fast-growing adoption of inkjet has helped print remain as an essential part of today's communication mix. However, fast growth presents significant challenges for original equipment manufacturers (OEMs) of inkjet printers.
The Challenges
Inkjet output has now evolved to satisfy the quality requirements of high-end brand owners and print buyers. With that buyer acceptance, demand for high capacity, high-quality inkjet printers is consistently increasing. Another challenge for OEMs is the need to quickly introduce reliable printers capable of producing creative applications requested by end-user clients. Examples are short-run individualized product packaging and personalized craft beer labels. 
Fast-developing client requirements mean OEMs must determine the best and quickest way to configure, test, and manufacture inkjet printers. Many OEMs are choosing to partner with Memjet. This partnership model allows OEMs to leverage Memjet's thoughtful inkjet architecture, expertise, and resources to shorten time to market with fast, cost-effective, high-quality printing systems suitable for a wide range of applications.
Driven by a passion for innovation and a desire to enhance the printing industry Memjet, together with OEM partners develops fast, high resolution, flexible digital print solutions for a broad range of market segments—at a remarkably affordable cost.

Memjet, the Company
Memjet doesn't build digital inkjet presses. It supplies OEM partners across the world with advanced printhead, module, and ink technologies. Together with its OEM partners, Memjet develops fast, high resolution, flexible digital print solutions for a broad range of market segments.
With thousands of patents, the company has proven experience, expertise, and advanced technology to serve as an OEM's partner of choice. Memjet helps partners shorten time to market, minimize costs, and maximize the capability of their inkjet solutions.
Memjet develops printing technology that keeps pace with market demands.
Memjet printhead technology first caught the attention of printing device manufacturers with its VersaPass technology. Over the past 12 years, over 10,000 VersaPass systems have been integrated into OEM partner solutions around the world.
Features that led OEMs to integrate VersaPass technology included a stationary printhead that delivered brilliant quality output, precisely and consistently. The microelectromechanical systems (MEMS) fabrication technique, which enables mass production of miniature machinery, is used to build the VersaPass Integrated Circuit. MEMS fabrication enables high-density, low-cost, scalability, and delivery of highly precise ink delivery across all nozzles.
A great example of how this technology fits into creative spaces is notlikeyou, a German company with a unique market that takes advantage of the speed, flexibility, and quality of Memjet-powered printers to extend their brand ethos to the unboxing experience.
MEMS technology and is the inspiration for the name Memjet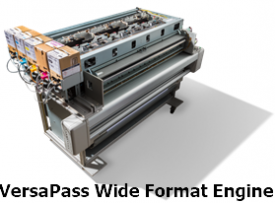 DuraLink, Powering Production Printers
DuraLink was developed from the inkjet experiences, and knowledge gained from VersaPass and introduced improvements specifically targeted to commercial printing needs.
Memjet approaches enhancements with an eye towards their OEM partners and the range of end-user environments those OEMs desire to serve. Building on the expertise and experiences gained from VersaPass, Memjet's global technologists turned their talents toward expanding the quality, durability, and applications with a modular, next-generation inkjet platform.
The result was the DuraLink platform, which enhances VersaPass with notable enhancements like:
Aqueous pigment inks;
Faster print speed;
10X longer print head life;
Wider printing area;
1600 DPI resolution.
Expanded OGV color gamut      
 
DuraLink's speed, simplicity, affordability, and modular durability expand an OEM's inkjet applications to a broader range of commercial, packaging, and industrial printing markets. 

DuraLink helps manufacturers look beyond the status quo. Seamless modularity helps OEMs build solutions that give their products a competitive advantage and their clients the best in high quality, creative output.
DuraLink Delivers
Seamless Simplicity – Thoughtful design high performing modules integrate seamlessly into partner technology platforms. The simplicity extends to the end-user environments, where maintenance and ink replenishment are simple and easily integrated into production workflows.
Speed to Market – Delivering carefully engineered, built, and tested subsystems allows OEM partners to faster, more efficient development and go-to-market strategies.
Integration Reliability - Subsystems are built to integrate cleanly and operate reliably to power a partner's inkjet printer under the most demanding production environments.
Enhanced Profitability – Proven, highly reliable inkjet, cost-efficient inkjet modules result in higher profits for OEMs.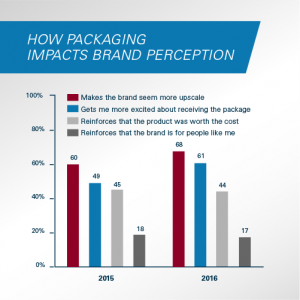 Beyond Paper
Continued growth in e-commerce is driving increased opportunities for packaging and shipping products. Creative, personalized products demand attention-grabbing, brand-enhancing packaging that is both visually powerful and sturdy enough to handle the stress of shipping.
Time and effort are devoted to designing packaging that extends the brand experience beyond the sale and builds brand loyalty with noticeable and memorable visual brand ambassadors.
Digital printing unlocks opportunities for creative marketers to reach consumers through an ever-expanding array of channels. In addition to personalized 1:1 capabilities – digital printing opens up new possibilities for brands, converters, and printers with mass customization and versioning at production speeds, allowing for true localization, limited-run campaigns, just-in-time manufacturing as well as improved supply chain management.
Memjet's DuraLink systems deliver value across traditional print platforms such as label making to traditional commercial print applications. The high visual quality, reliability, and simple workflow integration are driving even more creative output.
Powering Creativity
The modular durability of DuraLink modules provides excellent building blocks for OEMs seeking more efficient development of new highly creative and demanding application printers.
One example is MGI's development of its AlphaJet print embellishment system. After evaluating many printhead technologies, MGI selected the DuraLink solution for color graphics. The combination of brilliant, 1600 DPI color, and the thoughtfully designed and implemented DuraLink modular components met MGI's quality and performance demands.
.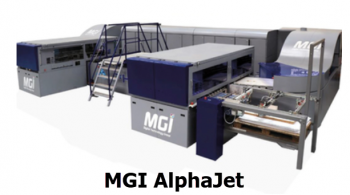 Another example is UP Technologies, who chose DuraLink's environmentally friendly aqueous printing technology to deliver the high color output required for their DuMax 330 standalone high-speed label printer.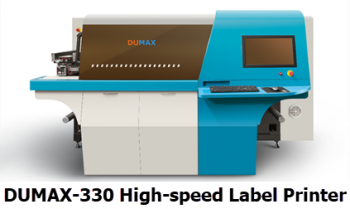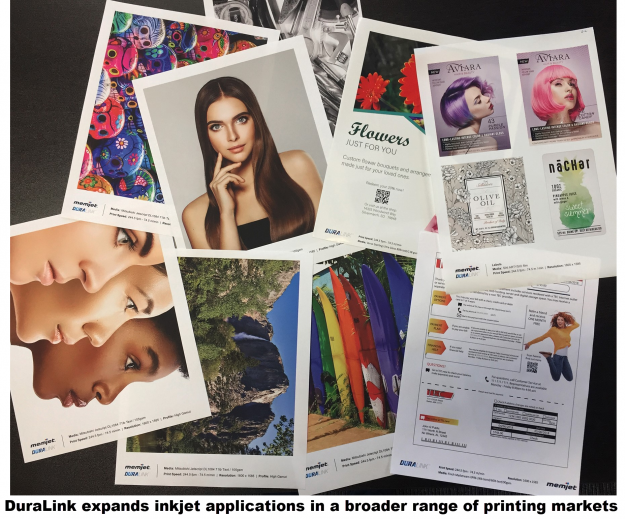 Partners in Development
The future is about more than just printing on paper, and Memjet is committed to applications and designs that challenge the idea of what printing technology can do. Memjet works alongside OEM partners, assisting them with printer development and enabling them to accelerate their time to market while minimizing the cost to develop products.
The innovators work closely with their partners to anticipate potential issues and solve them before they hit the market. Each subsystem achieves the best possible performance through the team's expertise in software, hardware, mechanical design, and fluidics.
Technology leaders are recognizing Memjet's innovative approach to development and are developing complementary capabilities to extend the powerful capabilities of DuraLink. EFI has partnered with Memjet to provide a version of their award-winning Fiery digital front end to drive Memjet's portfolio of digital inkjet production solutions.
"We have installed a Fiery DFE to drive a 7-color digital press in Memjet's headquarters demo center, and both our team and our partners are impressed with the way the Fiery DFE enables superior color and image control," says Eric Owen, general manager of commercial press for Memjet. "It also offers customers advanced job management and the ability to produce versioned and variable print runs at engine-rated speed. Fiery technology, combined with DuraLink's speed, image quality, and reliability, bring tremendous added value to Memjet's DuraLink partners."
Testing and Proving
Memjet continues to invest in multiple, fully equipped print and ink chemistry labs on three continents. These labs provide an invaluable resource to the designers, engineers, and product line managers within Memjet and, more importantly, for their OEM partners. Testing, troubleshooting, and training are delivered in an innovative environment where changes and results can be tested and evaluated. In addition to the labs, Memjet also develops software and print system reference designs that can give partners a head start prototyping and evaluating product designs.
Into the Future
As ever-more creative and demanding inkjet applications are developed, Memjet will continue refining, enhancing, and increasing its product solutions as the trusted partner of choice for the industry's original equipment manufactures.
Memjet combines ink delivery, maintenance, component electronics, and under-printhead paper path in pre-configured engine designs that accelerate an OEM's whole product development.