Packing in Profits from the Packaging Market with Memjet 
For more
The Future of Print 
Many people, both inside and outside of the industry ask, "Does print have a future?" That is a valid question best answered with one word – PROFIT. Profitability is what drives the future of any industry, including the print industry. 
Digitization has had a profound impact on print profits over the past few years. As such, print providers, as well as their original equipment manufacturer (OEM) suppliers of all sizes, have been seeking ways to diversify their service offerings.  
Packaging for Profits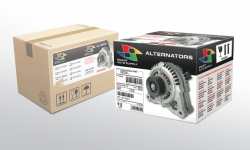 Printers are becoming increasingly interested in the packaging market for new revenue opportunities, especially in the area of label printing. However, various barriers to entry have made it difficult for both print providers and their OEM suppliers to aggressively approach the lucrative packaging market. 
The most significant entry barriers have been the cost and reliability of printers capable of consistently producing vibrant colors at the speeds needed to meet brand owner requirements.  
Memjet Lowers the Barriers 

Memjet's print technology investments have positioned the company as a strategic solution provider for OEMs desiring to supply their customers with affordable, high-quality, high-speed inkjet package printers.  
The barriers to entry have been lowered by Memjet's modular single-pass inkjet platform. Modular technology allows OEM partners to quickly develop affordable, high-resolution, fast package printers. By reducing the entry barriers, Memjet makes it possible for all OEMs and print providers to profit by adding package and label printing to their portfolios. 

Memjet's three current inkjet platforms allow OEM partners to meet their customers' needs for beautiful package printing regardless of company revenue, print volume, or application specialty. 
The Packaging Marketspace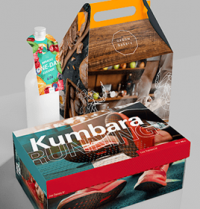 Brand loyalty is as much an emotional connection as it is a positive product experience. Brand owners include vibrantly printed packaging as a critical component of their sales and brand enhancement strategies. Everything from food to consumer products depends on increasingly sophisticated packaging and labeling to stimulate sales.
Packaging speaks to the quality or uniqueness of the product inside. A packages' visual impact can make the difference between a sale or a lost opportunity. Beautiful product packaging is often what a consumer remembers.
Boxes, bags, corrugated containers, and all manner of complex materials can enhance a product's brand value with the addition of high-quality inkjet printed images and text. 
A beautifully designed and printed package is an impactful product differentiator. Quality packaging equates to quality product impressions. 

Building Markets 
OEM suppliers continually seek to grow their markets with new solutions to help their customers expand their print-driven packaging offerings. Memjet supports its OEM partners in meeting the needs of the ever-evolving packaging market. The versatile and economical Memjet inkjet modules provide OEM partners a competitive advantage in designing and delivering solutions to meet the immediate needs of package and label printers. 
Memjet's solutions support the largest to the smallest print companies in providing their end-user customers with the best in packaging innovations.

First Mover Advantage 
One of the strategic advantages Memjet brings its OEM partners as well as all members of the print value chain is a first-mover advantage. Being first to market with printers for a newly identified application can provide OEMs a competitive advantage as well as establish or increase brand value and customer loyalty.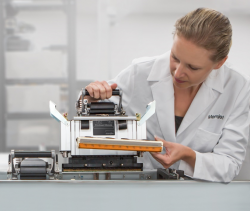 Memjet's ink and engine modules are specifically engineered, built, and tested to minimize the time and resources an OEM needs to invest in fulfilling their customers' packaging technology requirements.  
Modularity allows OEMs to create high-quality, affordable, innovative printers faster. The result – product development and launch cycles are reduced from years to months. That means equipment can be developed, sold, and installed in less time than ever before.
To further accelerate time to market, Memjet supports its OEM partners with a wide range of services, including but not limited to, technical engineering, product design, and marketing support.
The sooner an OEM brings a new solution to market, the earlier a print provider begins generating new packaging profits, the faster an end-user realizes the positive impact of an inkjet printer Powered by Memjet on their sales and brand extensions. That chain of revenue-producing events drives profits for all members of the value chain. And profitability is what drives the future of print.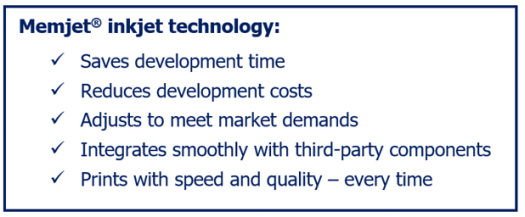 Inks 
Memjet print technology is more than just hardware. Memjet's line of aqueous inks was designed to be safer for the environment, users, and the consumer than traditional inks. Additionally, some Memjet inks have been specifically created for use in a variety of food packaging applications.  
Consistent investment in ink technology ensures each print solution Powered by Memjet® includes a carefully matched ink type that is fine-tuned to maximize the capabilities of the hardware and software while also targeting the print performance demanded by the market.  
Memjet technology can be part of a print solution for a variety of media types, including plain corrugated boxes, folding cartons, high-impact papers, flexible materials, shipping envelopes, and food and beverage labels.  
This flexibility allows OEMs to tailor their devices to very specialized packaging applications knowing that the printed output will resonate with brilliant color and eye-catching clarity delivered at resolutions as high as 1600 dpi – unique to Memjet technology. 
"Memjet has developed superb core technology with the DuraLink architecture and ink modules. In addition, their teamwork and technical support for the AlphaJET product has allowed us to quickly achieve unprecedented functional advancements." Michael Abergel, Managing Director, MGI 

Collaborative Partners 
Memjet works in close collaboration with all members of the print value chain to build the highest quality inkjet systems to enable both the OEM partner and their print provider customers to grow market share by providing the end-user high impact package printing.
Memjet supports its OEM partners by designing and delivering brilliant print technology designed and engineered to smoothly integrate with platforms capable of printing onto a wide range of packaging and labeling materials.

From design, engineering, and technical guidance to creative marketing strategies, Memjet collaborates with their OEM partners to provide the support needed to design and build new print platforms plus stand out in the market.
The result is a success for all – for Memjet, for OEMs, for printers, and the end-users.  
Case Study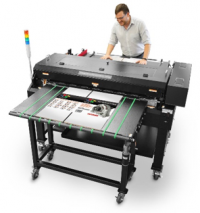 This video Case Study previews the success of Memjet's collaborative business platform and the impact of affordable technology that allows print providers to be a first mover.  
Xante's packaging client, Innovative Integrated Solutions, bought the Excelagraphix 4800 printer Powered by Memjet to add inkjet printing to their box manufacturing business. The result was a positive 14-month return on investment and preparations for follow up orders. 
In addition, Innovative Integrated Solutions' end-user client also gained brand benefits by eliminating the cost and labor of manually applied box labels when it began printing higher quality branding images directly on the boxes with the Excelagraphix 4800 printer Powered by Memjet.
View the Innovative Integrated Solutions Case Study Here  
As you can see, the benefits of Memjet's collaborative approach to technology span the entire print value chain from Memjet's OEM partner, the print/packaging company, and the end-user. 
Memjet's partnership with its OEM partners goes beyond providing best-in-class printing technologies. Memjet supports its partners every step of the way. Together, they are building the future of print.

The future of print is packaging and labeling. 
Memjet's three beautifully engineered single-pass print platforms support packaging and labeling:  
VersaPass: Quality, Speed, and Affordability. 

The original single-pass print technology that started it all is a powerful combination of quality, speed, and affordability. The platform's platform's wide range of varying engine and component configurations means OEMs can quickly build printers and presses that meet the demands of a variety of markets – from benchtop to wide format and commercial printing.
DuraLink: Durability and Versatility 

Enabling the rapid, cost-effective development of next-generation solutions for high-volume print markets. This technology features a new long-life printhead, durable pigment inks, and a range of versatile modules–enabling fast and cost-effective product development of commercial, packaging, and industrial printing solutions. 

DuraFlex: Fast Affordable Printing 

Supporting a new breed of economical, high-performance solutions for a wide range of markets with up to 1600x1600 DPI resolution for flexible, affordable, and intelligent print solutions.  
Memjet is building the future of print with modularized solutions that support an OEM partners' partners' production of high-quality, affordable inkjet printers. Memjet's focus on quality, affordability, and seamless integration is summed up in a simple phrase – Beautiful Precision.