CEO Q&A on Digital Finishing Challenges
Flexibility in Digital Finishing
Below, Shlomo Nimrodi, CEO at Highcon shares his thoughts on the growth of the digital finishing market and trends, fueled by the pandemic, that will undoubtedly shape the industry moving forward.
Q: Who is Highcon? How many employees do you have? What is your current turnover?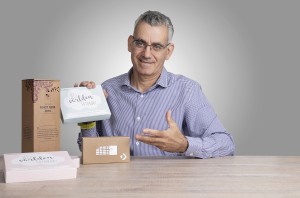 A: Highcon has been in business since 2009, with one consistent vision - to deliver digital finishing solutions that provide agile manufacturing for the folding carton, corrugated, and commercial print markets enabling brands to innovate and differentiate at speed and succeed.
We currently have over 120 team members and due to continued growth, we are still hiring and expect this number to grow month-on-month with a particular focus on customer-facing roles. We also ramped up operations (sales & service) in Europe, North America, and Latin America, as well as R&D for the corrugated market.
We had a turnover of $8.4 million in 2020. However, our ambitions match our confidence in the technology, so we aim to be a $100 million business by 2026.
What are the key benefits of the Highcon digital finishing technology?
A: At the heart of our systems is a very innovative digital cutting and creasing technology that drives unique benefits for customers including no minimum order quantities (MOQ), much faster delivery times, and mass customization.
With sustainability high on the agenda for everyone, the performance of our systems is key here too, enabling the eradication of die-cutting tools and the materials used to make them, reducing inventories and manufacturing on-demand at the right sizing while optimizing the end customer experience.
Q: How many systems do you have in the market now? How does that split by market?
A: We currently have over 70 installations around the world, 15% of which are multiple system installations for the same customers. Of those 70+ customers, 85% of them are based in North America and Western and Central Europe.
Commercial print and light packaging, which represents the early sales of the company, account for 40% of the installed base, with folding carton & corrugated representing 60%, with the highest growth being in the corrugated segment.
Q How does this install base split by product?
A: Given that it was our first solution, 80% of sales have naturally been for our Euclid systems. Sales of our Beam platform have also accelerated significantly in recent years. This has been driven by the overall growth in packaging, and specifically, the rise of the web-2-pack model, where digital converting capabilities via our Beam solution reduce bottlenecks and facilitate an increase in sales.
Q: What does an average Highcon customer look like?
A: Today, the majority are folding carton and corrugated businesses of all sizes – from small to giant. Although our solution is print type agnostic, many plants have at least one digital press and are familiar with that market and how to sell digital print and so they see digital finishing as their missing link. This is also fueled somewhat by the pandemic, a growing number of customers are now web-2-pack businesses, too, catering to the small to medium businesses.
Q: What is the current state of the digital finishing market? What is the potential size of the finishing market?
A: Honestly, it is still in its infancy. Following the early adopters comes the next phase – businesses leveraging financial gains from the introduction of our digital converting solutions to increase overall manufacturing efficiencies in their plants.
The web-2-pack business model is accelerating things, with several of the big players now on board. Of course, the value proposition is now also very strong, with great case studies and clear financial benefits to back up the value proposition.  Also, we benefit from the pull-through coming from brands who learn to appreciate the packaging design creativity freedom and opportunities that digital finishing provides to improve their overall supply chain efficiencies.
The market size, for us, breaks down into two parts – overall equipment sales and the cost of dies. In terms of equipment, there are many types of traditional die-cutting solutions with estimated annual sales of $1.5 - $2 Billion per year. Dies, depending on which source you rely on, have estimated annual revenues of $3-5 Billion annually. A growing number of those dies are then stored and never reused, representing additional and significant expenditure and negative contribution for the sustainability objectives the world is coping with.
I believe that over time, as market dynamics of e-commerce and sustainability accelerate, the penetration of digitally based finishing solutions will become a growing part of the overall finishing process. For Highcon, having a first-mover advantage, there is a good head start in this transformation journey.
So, it's clear that the digital finishing opportunity is huge.
Q: What are the specific challenges and barriers to success for digital finishing? How does Highcon meet these challenges?
A: Our main challenge is awareness and access to market. Building awareness starts by selling to the right customers. Customers that have an existing and identifiable need to increase overall manufacturing efficiencies i.e., "boxes on the floor". Needless to say, they do need to acknowledge that need. Once they do that, we have to make sure these customers will be successful, and this requires a multi-tier approach including insuring consistent operation and appropriate training. If you have done these two all you have to do is move out of the way and let the customers do what they are good at. The more successful our customers are the more new customers will join this transformation.
As it relates to access to market, we are in the process of expanding both our sales footprint by adding qualified salespeople and signing up strong distribution partners. Along with this, we are expanding our service operation to ensure sustainable customer satisfaction.
We are not alone in this journey and we believe teaming up with the other players in the ecosystem would be key to accelerate the overall market penetration of digital solutions.
Clearly, since the eruption of the pandemic, the huge uncertainty within the supply chain has helped the realization of the necessity for agility in production by many customers out there, which certainly supports the benefits of our solutions.
Q: What is your current market position?
A: Highcon does have first-mover advantage in this market. With this comes great pains we endured throughout the years, however also great opportunity to implement our key learnings both on the technology side as well as the business side. We do have some emerging competition, and that is a really good thing in helping to grow the market and create increased demand, however, I do believe we're at the right state to lead the charge.
For Brand owners, the digital finishing technology allows for delivery on demand hence reduction of inventories and the risk of dead stock.
Q: How has the pandemic impacted your business?
A: Like most businesses, the first half of 2020 was very challenging. Thankfully, the agility of our business and the sacrifices made by our employees around the world, allowed us to provide short-term creative solutions to enable our customers to still advance their plans.
And, thanks to the power of our offering, and the fact that businesses are looking to strengthen or establish a web-2-pack offering, we did better in the second half of 2020 than the whole of 2019.
Q: Moving forward, what are your key markets and geographic regions?
A: Our continued focus is on North America and Western and Central Europe, but we also see big opportunities in Mexico and Columbia specifically, where the container and packaging market is showing good and consistent growth.
Q: You recently went IPO and secured $45 million, how significant was that achievement for the business and the market?
A: I think that it was hugely important for both. For the wider market, essentially, the IPO is independent recognition of the market opportunity that Highcon sees. For Highcon, it is further endorsement of the company, its direction, and its technology and a big stepping stone in realizing the ambition of making Highcon digital finishing technology a mainstream solution.
Q: There have been a couple of management changes recently. What were your objectives for these changes and what do they represent for the business?
A: Well, where to start. We have made several noteworthy appointments to the board of directors and executive management team to help drive the digital change that is essential to optimize supply chains. 
First, our new Chairman, Alon Bar-Shany. What has always impressed me about Alon, is his complete obsession with customers and customer service. He has amazing relationships with them, and they truly trust him and his judgement. I have no doubt that his contribution for me and the management team will be significant.
We have also welcomed Simon Lewis to lead our marketing strategy. Simon is another well-known player in the print industry bringing with him the strategic and product marketing coupled with strong direct and indirect sales experience. I have no doubt that Simon will be a key player in devising and implementing our growth strategy.
Q: And finally, tell us a little about you - Shlomo Nimrodi – what motivates you?
A: Ok, well perhaps a less typical answer, but this was what helped to shape me as a person and what I've since been able to achieve.
In my youth, I was in the Israeli Special Forces, and while on operations I was injured quite badly. In the years that followed my recuperation, I have been driven to make a difference - both in business and in my personal life – whether that means extreme sport or in building a business that positively impacts other people's lives. And in that regard, I consider it a huge privilege and an honor to lead the wonderful team at Highcon, and in time, to realize our ambition of making digital finishing a mainstream technology - positively contributing to a more profitable, and sustainable packaging future.